Content commerce for innovative nutritional supplements
Establishing natural, well-tolerated and environmentally friendly packaged dietary supplements that bring pleasure and well-being together - that is the mission of Better Foods GmbH. With LactoJoy, the Göttingen-based start-up initially developed a lactase preparation that does not contain any chemical or animal additives. Under the brand name Better Foods, the range of natural food supplements is being steadily expanded.
Rapid market launch thanks to growth-driven design and Pimcore 5
To ensure that the innovative products, carefully developed in Germany, achieve visibility as quickly as possible after market launch, Blackbit implemented a Pimcore-based web launch using the Growth-Driven Design method. After defining smart goals and buyer personas with the Better Foods team, we developed a strategy and documented the website's requirements for design, functionality and content. This wish list was then sorted by the importance of each feature. Only the most relevant elements were implemented by the time the website went live for the first time.
This agile approach enabled us to initially publish a Pimcore 5 website with information in Chinese for a trade fair appearance in Taiwan at short notice. In the following weeks, German and English language versions, further content, store functionalities and the connection to the merchandise management system plentymarkets via a specially developed interface followed.
The flexible open-source framework Pimcore is ideal for growing together with Better Foods. This means that additional products, content and language variants can be added to the existing system in the future with little effort.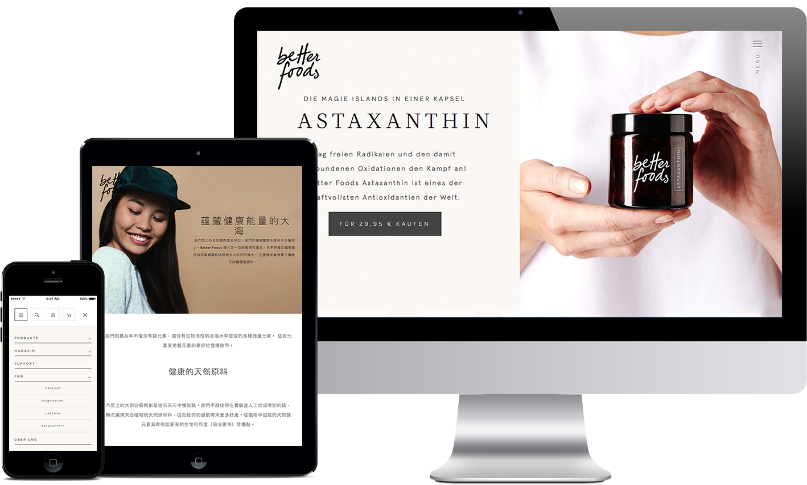 Clever combination of content and commerce
In order to properly present the novel nutritional supplements that require explanation, it takes more than a few key points on the product pages. Visitors to the Pimcore store are therefore emotionally introduced to the world of topics via an integrated online magazine, an FAQ section and high-quality images. The modular structure of the Pimcore solution allows Better Foods' editors to easily link product data and editorial content.
Discreet and multifunctional navigation
The layout of the online presence was created by the Viennese design agency Moodley, with whom we already worked on the relaunch of the Viani webshop. The clear structure of the site and the photos of carefree, natural people perfectly convey the values of the young brand.
Another special feature is that the site, which has been optimized for mobile use, features a very understated yet multifunctional navigation bar. This only unfolds when you click on the navigation icon, which is located at the top right in the desktop view and always in the center at the bottom of the screen on mobile devices. In addition to the website menu, the extended bar also contains the language switcher, search, store login, shopping cart and links to the social media appearances - without appearing cluttered. When you switch subpages, the navigation folds back in so it doesn't distract from the high-quality imagery and lovingly prepared text.