"Hard work pays off" - our new frontend developer Roman is convinced of this. That's why he always gives 100% in design implementations to inspire our customers. What it looks like on his desk and why he has become an agency repeat offender at Blackbit, he revealed to us in an interview.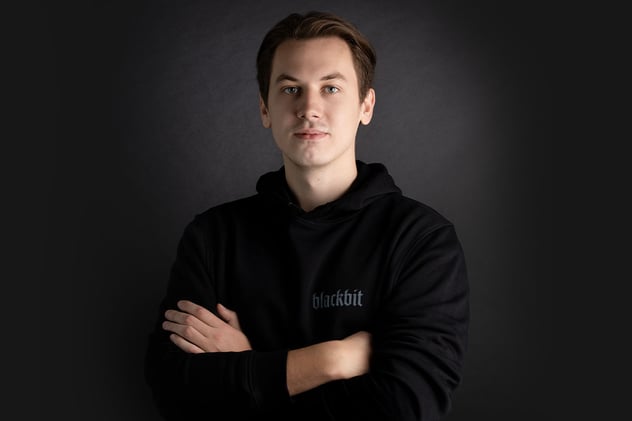 Hi Roman, welcome to the Göttingen team! Tell us, what do you actually do at Blackbit?
I'm currently working in frontend development. Most of my daily tasks consist of fixing design bugs or adding new features. I enjoy my work. I especially appreciate the exchange with my colleagues - together we master every challenge.
Developers are currently in demand in many companies and industries. Why did you decide to work in an agency?
So far, I have only worked in digital agencies. I like the working style and the friendly relationship with my colleagues. I found Blackbit through a job offer on an online job board. After a trial day, it was clear to me that I liked the company and wanted to work here.
Aha, an agency professional! It's nice that you feel comfortable with us. What have you done professionally so far?
After my training as an IT specialist in the field of application development, I worked in web development for four years. I worked with frameworks like Vue, React and Tailwind CSS. My main programming languages are JavaScript and PHP, but I also have experience with Go, C++ and other compilable programming languages.
What are your favourite programs to use and why?
In my work, I use PhpStorm as an integrated development environment. Sometimes I use Adobe Photoshop and Adobe Illustrator. These are very useful programmes that make work much nicer.
Now we know what happens on your digital desktop. But what personal things are on your analogue desk?
I attach great importance to ergonomics and minimalism, so there is nothing superfluous on my desktop. Just a notepad, a pen and a glass of water.
Sounds very tidy. What other qualities characterise you?
Organised: I always focus on the task at hand and don't waste time.
Flexibility: If I have to quickly switch from one task to another, that's no problem for me.
Motivation: I am motivated to develop my skills, so I do a lot of programming in my spare time and have an active GitHub account.
Great prerequisites for mastering everyday agency life! Speaking of which: What does the perfect day in the office look like for you?
My ideal day starts around 08:15 and is filled with interesting tasks. Even if the task is difficult, it's fun to solve it in the end.
And when things aren't going so well? What do you do to get back into a good mood?
I'm not in a bad mood that often. But when I am, I go jogging or do sports at home.
What else do you like to do when you're not at your desk?
I like to read classical literature and play chess, listen to music and watch films.
Finally, to tease some wisdom out of you: What advice would you give your 15-year-old self?
Use your money and your time wisely. Don't waste either of them. Invest and develop yourself.
Very good tips. Thank you for the insights into your job and everyday life! We look forward to working with you and wish you a great time at Blackbit!
Stefano Viani ist Geschäftsführer von Blackbit digital Commerce GmbH. Er ist immer up to date, was neueste Entwicklungen und Trends im E-Commerce und digitalen Marketing angeht. Seit Jahrzehnten ist er für große und mittelständische Unternehmen Berater für die technische, optische und werbliche Optimierung von Webauftritten. Dabei entwickelt er insbesondere Konzepte und Maßnahmen für ein erfolgreiches Absatzmarketing.
Do you have any questions or would you like a personal consultation?
Stay up-to-date with our newsletter