Free spirit with zeitgeist: Our design team is looking forward to reinforcement
On a large scale as well as on a small one: Marie Elbeshausen's ideas sprout like colorful spring flowers. From elaborate trade fair presentations and powerful image campaigns to delicate illustrations - the trained media designer always has the right design at the ready. And the best part? We were able to win her for our Göttingen team!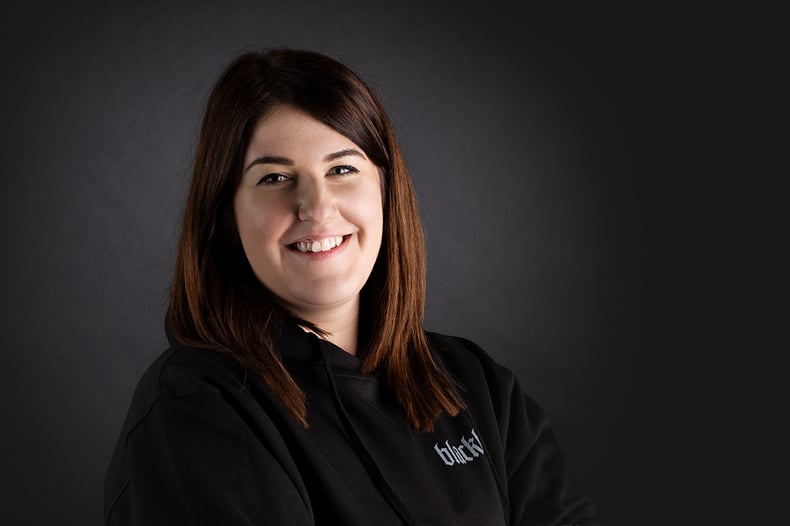 After her training, Marie first honed her eye for design and form at a full-service agency. But soon the desire to focus on brand marketing grew. She was able to implement concepts for brand building and positioning, targeted communication strategies as well as contemporary corporate designs in a brand and design agency.
The longing for home and the attraction to dive into the world of digital commerce finally led the creative bundle back towards Göttingen - and thus directly to Blackbit. A delicious cappuccino with our CEO may also have contributed to their decision.
Magic elixir or not: Marie brings along a lot of experience and is the perfect addition to our creative team thanks to her know-how in social media marketing. From now on, she will be designing graphics for our customers, putting the finishing touches on animations and getting everything ready for printing. What must not be neglected in the process? A good team feeling! Because as the saying goes
Team work makes the dream work". And we all agree on that.
Marie is curious and bursting with joie de vivre, and not just in her day-to-day work at the agency. That's why she spends her weekends out in nature. At the moment, she prefers to go to the Harz mountains, but hopefully she will soon be able to cross national borders again. Until then, the iPad is her faithful companion. Because what Marie hasn't seen on the road, she simply adds at home. With her
With her digital pen, she makes every imaginable animal appear in her excursion photos. There are no unicorns in the Harz mountains, my ass!