IMPRESSIONS FROM ERETAIL EUROPE
How do brands come alive with the help of multichannel touchpoints? Being and staying fit for the future - that's what eRetail Europe in Amsterdam, which our Managing Director Stefano Viani visited in September, was all about. Stephan Mader, who opened this year's eRetail Europe in Amsterdam as Digital Retail and E-Commerce Consultant at the LEGO Group, picked up on the topic and left a lasting impression with his opening keynote.

Advantage through advantage means always being up to date:
Trade fairs and events like eWeek Amsterdam, where the entire e-commerce scene meets, primarily serve to exchange knowledge and cultivate networks. After all, innovations are not created without input from outside. Breaking through old thought patterns with new insights and findings, peppered with trends and developments, revitalizes one's own stagnant thoughts. Back within the familiar four walls of one's own office, one should retain this breath of fresh air and innovation for as long as possible in order to be able to tackle and drive forward new ideas with motivation.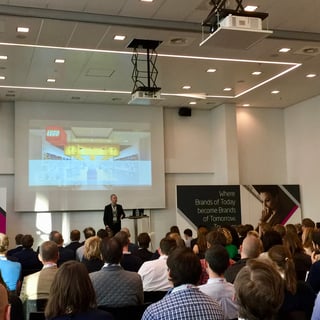 Learning from others and exchanging ideas:
Representatives from different business sectors and renowned brands (AXA, Samsung, Lacoste, Heineken) provided insights into their lives and success stories. As a result, all event visitors were able to benefit from experiences from completely different areas and transfer valuable insights to their own business. Learning from others does not mean being a copy, but being inspired, acquiring knowledge and building something new yourself.
Specialization:
Standing out from the crowd of similar offerings is important to capture the interest of the target audience and be remembered with new ways and innovative strategies. At eRetail Europe, this became particularly clear during the presentation by Luc van Emmerik, Global Head of Communications at Foodora. The startup knows better than almost any other how to think around corners and differentiate itself from the competition with a somewhat different concept. Specialization is the key word here: In the future, trust will be placed in companies that know how to sell expertise and do not try to sell a broad range of "everything. This is how you manage to remain competitive and on everyone's lips, just like Foodora.
Best practices? It's better to go your own way!
Everyone talks about best practices, everyone wants to go down in history as a pioneering example. However, this is not achieved by following best practices and thus institutionalizing the copying of successful models. Brands emerge from differentiation, only when they do something different from the others. Only then do they stand out and become a topic of conversation. It doesn't hurt to learn from case studies and the success stories of other companies. How did they go about it? Where are the parallels? What mistakes do you not have to make yourself first? But every company has to find out for itself how it meets the needs of its customers - ideally in an extraordinary way. Then it has the potential to become a brand.
Conclusion on eRetail Europe:
eRetail is a high-quality event with first-class speakers and presentations. We can say with a clear conscience that the lectures and all the discussions on this day were particularly enriching and that we will now start motivated and with many new ideas. Following the presentations and case studies on advertising, trends and innovative technologies in e-commerce, the speakers and many other industry representatives met at a get-together where, among other things, they discussed how cross-border online trade (cross-borders eCommerce) can be further advanced.
Webshop design: get inspired
Are you still looking for inspiration for your e-business yourself, but you're a bit short of inspiration? Then take a look at our free e-book: In our checklist, we tell you how to implement successful webshop design and what you should keep in mind.
Stefano Viani ist Geschäftsführer von Blackbit digital Commerce GmbH. Er ist immer up to date, was neueste Entwicklungen und Trends im E-Commerce und digitalen Marketing angeht. Seit Jahrzehnten ist er für große und mittelständische Unternehmen Berater für die technische, optische und werbliche Optimierung von Webauftritten. Dabei entwickelt er insbesondere Konzepte und Maßnahmen für ein erfolgreiches Absatzmarketing.
Do you have any questions or would you like a personal consultation?
Stay up-to-date with our newsletter