Curious, musical and ambitious: Basti is our new Social Media Manager in Berlin. In the interview, the trained PTA reveals more about himself.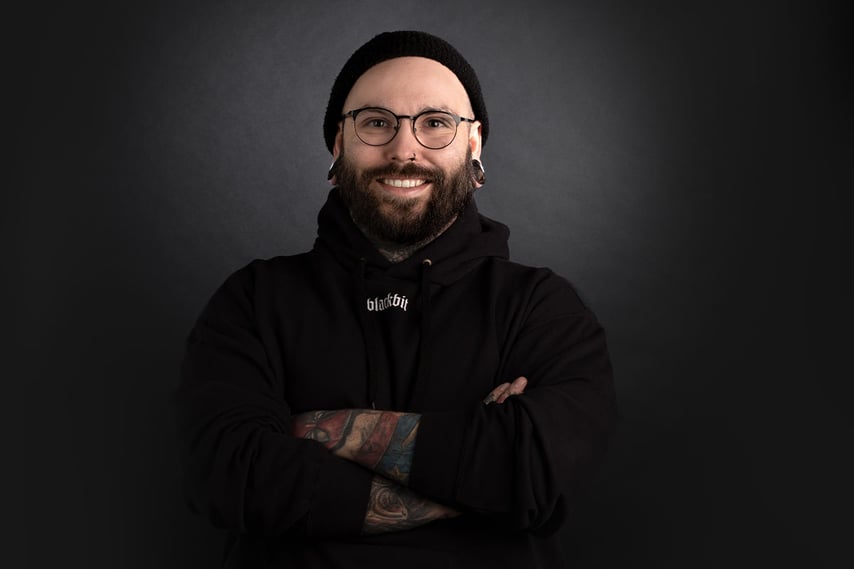 Hi Basti! Nice to have you here. You started your job at Blackbit on 9 January in our Berlin office. What does that look like, what do you do exactly?
I look after and advise companies in the area of social media and ad placements. Whether Meta, LinkedIn or TikTok - no channel is safe from me 😊
How did you get involved with Blackbit?
One of your Instagram Story Ads brought Blackbit to my attention and I clicked ....
What kind of education do you have?
I'm a trained PTA (Pharmaceutical Technical Assistant) and was even PTA of the Year 2016. But I actually wanted to go into the music industry and start out there as a marketer, because I've been doing all this for my band for years and also advise other bands on content and USP. So I combined both areas and became an expert in digital pharmacy marketing.
What makes you stand out?
I'm extremely curious, always want to know and try out everything, and thanks to my ambition, I keep at it - I think my career proves that quite well 😊
Do you see your job more as a science or an art?
Science!
What's on your desk?
More importantly, who sits next to it? Because that's where my dog Anakin usually lounges.
And when you're not sitting at your desk? What do you do then?
I'm often out in nature with my camper van, dog and girlfriend to switch off. As a musician, I'm also on the road all over Europe with my band "Empire of Giants", so I'm busy almost every weekend.
What does your perfect Sunday look like?
A big walk through the forest with my dog - that's all it takes.
Anything else you want to say?
Check out my band!

All right! Thanks for your time and have a great arrival at Blackbit!
Stefano Viani ist Geschäftsführer von Blackbit digital Commerce GmbH. Er ist immer up to date, was neueste Entwicklungen und Trends im E-Commerce und digitalen Marketing angeht. Seit Jahrzehnten ist er für große und mittelständische Unternehmen Berater für die technische, optische und werbliche Optimierung von Webauftritten. Dabei entwickelt er insbesondere Konzepte und Maßnahmen für ein erfolgreiches Absatzmarketing.
Do you have any questions or would you like a personal consultation?
Stay up-to-date with our newsletter