Important changes for our e-commerce customers: The indication of basic prices as well as strike prices will be adapted to new guidelines for the purpose of enforcing and modernizing consumer protection regulations. These will come into force on May 28, 2022.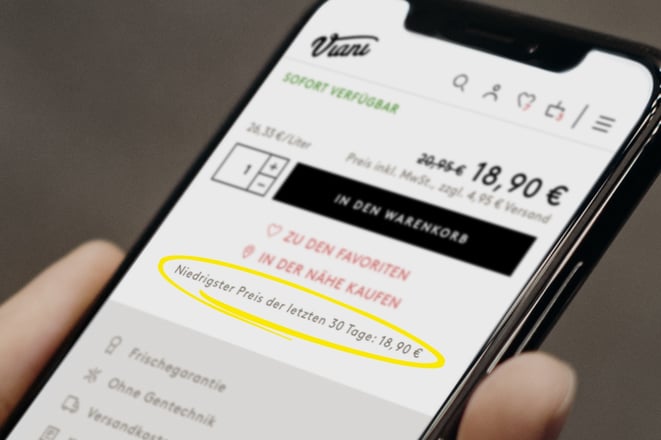 The new guidelines for price indications are primarily aimed at increasing transparency for consumers. Regulation of price indications with regard to basic quantity indications and price reductions is intended to ensure better classification. At the same time, the idea of a sustainable economy is underpinned by taking into account specific price indications for quickly perishable foodstuffs. Necessary updates in the wake of expanding e-mobility and rising electricity prices will also be implemented in the future.
Price Indication Ordinance (PAngV): What's changing?
What does the amendment to the PAngV mean for you and your online business? We have clearly summarized for you where concrete action is now required:
Transparency in price reductions
Section 11 PAngV puts a stop to short-term price increases before a price reduction. At the same time, this will make it easier for consumers to understand price reductions. In future, retailers will also have to indicate the lowest price of the last 30 days (prior to the price reduction) for each price reduction.



Indication of the basic price
The new Section 4 PAngV regulates the obligation to indicate the basic price. The basic price must be indicated "unambiguously, clearly recognizable and legible", but it is no longer mandatory to indicate it in the immediate vicinity of the total price.





Indication of unit of quantity
In the interests of transparency for consumers, Section 5 (1) PAngV stipulates the indication of the unit of quantity. In the future, the basic price must be indicated with reference to "1 kilogram or 1 liter".



Disclosure of deposit contributions
According to Section 7 PAngV, it is now clearly stipulated that the amount of the deposit may not be included in the total price, but must be stated separately
.




Elimination of mandatory indication of perishable food
In order to reduce food waste and ensure a more sustainable approach to food, Section 9 (1) No. 3 PAngV will in future eliminate the obligation to reprice a short-lived food product that is approaching its best-before date
.




Consideration of growing e-mobility In the future,
operators of a publicly accessible charging point must indicate the price at the respective charging point for e-vehicles to their consumers in kilowatt hours
.
More details on the changes can be found at the Federal Ministry of Economics and Climate Protection.
Preparing your own e-commerce store?
Especially the changes in the area of price reductions affect many e-commerce merchants. We are happy to assist you in making your store fit for the upcoming changes.
With experience in the flexible adaptation of existing stores and our own plugin development, we as experts in e-commerce are well prepared for the changes. Contact us and we will stay future-oriented together.

Stefano Viani ist Geschäftsführer von Blackbit digital Commerce GmbH. Er ist immer up to date, was neueste Entwicklungen und Trends im E-Commerce und digitalen Marketing angeht. Seit Jahrzehnten ist er für große und mittelständische Unternehmen Berater für die technische, optische und werbliche Optimierung von Webauftritten. Dabei entwickelt er insbesondere Konzepte und Maßnahmen für ein erfolgreiches Absatzmarketing.
Do you have any questions or would you like a personal consultation?
Stay up-to-date with our newsletter