A career changer when it comes to IT projects, but experienced in project management: Sören, who studied architecture, was already familiar with project management before joining Blackbit - instead of building projects, he now implements IT projects.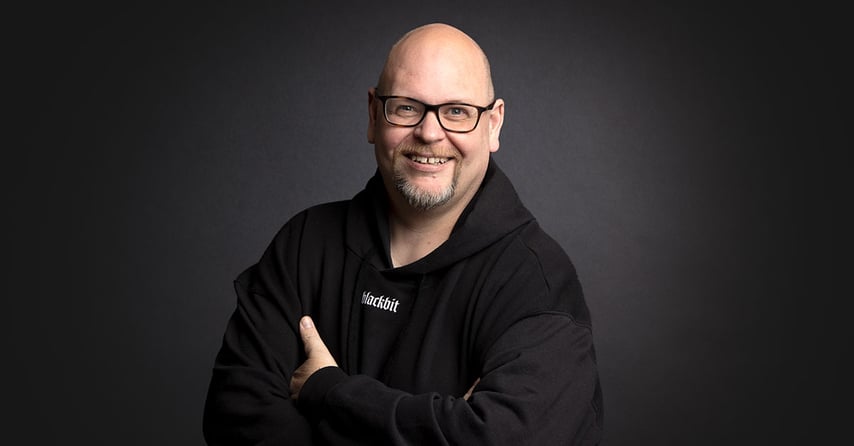 Hi Sören! You have been part of the Blackbit team at the Hamburg location since the beginning of 2023. For those who don't know you yet: What do you do at Blackbit?
As a project manager, I am responsible for a handful of our customers - I am in charge of all projects that we implement with Styla technology. I am the first contact person.
Which applications do you work with?
I'm a big fan of OneNote to organise my many notes and find them again quickly.
What brought you to Blackbit?
A recruiter contacted me via Xing and since I often worked with digital agencies at my previous employers, I could see this being a great fit for me.
What professional experience did you have before Blackbit?
I worked as an architect in France for a long time, worked for Apple and was able to participate in two "Career Experiences" as a UAT tester in Silicon Valley. I also worked as a project manager for practice conversions to Tomedo in a system house and conducted many training courses there. Most recently, I worked as an Application Manager for POS systems at CBR Fashion Group.
What makes you stand out?
I have a wide range of interests and am service-oriented, empathetic and always approachable - both for customers and colleagues.
Do you see your job more as a science or an art?
Science.
What would your perfect day in the office look like?
If it exists, the perfect day at the office starts with a coffee while I check my emails and make sure there are no emergencies. Then productive meetings with motivated clients and creative exchanges that I can immediately translate into planning future projects.
What's on your desk?
A Swedish candlestick and my favourite mug from Ireland.
When you're not at your desk, what do you do?
When I'm on holiday I like to go on individual trips or road trips, and in my free time I like to paint and draw, tend my garden or meet up with friends for gaming sessions.
What would be the title of your biography?
Who knows what tomorrow will bring?
That sounds exciting 👍 And what does your perfect Sunday look like?
Brunch with friends and family, a trip to nature or a museum, and ending the day on the terrace in the evening.
Last question: What advice would you give to your younger self?
Be open to where your path takes you.
Thank you for your time! We are grateful that your path has led you to us and wish you continued success with and at Blackbit!
Stefano Viani ist Geschäftsführer von Blackbit digital Commerce GmbH. Er ist immer up to date, was neueste Entwicklungen und Trends im E-Commerce und digitalen Marketing angeht. Seit Jahrzehnten ist er für große und mittelständische Unternehmen Berater für die technische, optische und werbliche Optimierung von Webauftritten. Dabei entwickelt er insbesondere Konzepte und Maßnahmen für ein erfolgreiches Absatzmarketing.
Do you have any questions or would you like a personal consultation?
Stay up-to-date with our newsletter