The boom caused by the coronavirus pandemic is over and, after very successful years with exceptional growth, growth rates in online retail are currently stagnating. That is why it is now particularly important to offer the best service - including in order processing.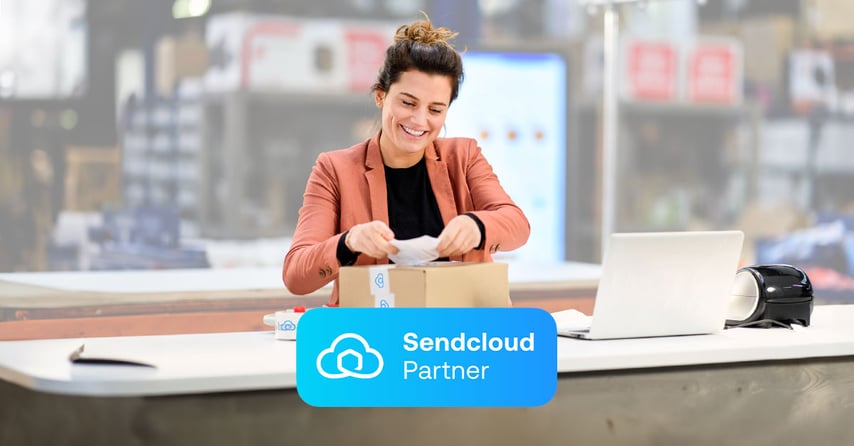 The effects of the war in Ukraine, the ongoing energy, inflation and supply chain crisis are depressing this year's growth curve - now it's time to keep customers happy with the best possible shopping experience. A key factor in customer satisfaction is timely, complete and error-free delivery to the door. However, online retailers face various challenges when shipping products:
Logistics & storage: organising an efficient storage system and managing inventory is crucial. This includes storage, inventory control, order fulfilment and product packaging.
Shipping costs: Calculating and managing shipping costs can be a real challenge: online retailers need to ensure that their shipping charges are fair and competitive

to

avoid losing money on shipping.
Delivery times & reliability: Customers today have high expectations when it comes to delivery times. Delays or unreliable deliveries can quickly lead to dissatisfied customers.
Packaging: Choosing the right packaging materials and methods is important to ensure that products reach the customer safely and intact. At the same time, sustainable packaging is in demand these days. Both factors can have an impact on the cost of shipping.
Choice of shipping service provider: Online retailers need to choose the best partners to optimise costs and ensure reliable delivery at all times.
Returns management: Even if free returns are no longer considered the gold standard, making it as easy as possible to return products is an important criterion for successful online retail. Online retailers must develop effective returns management processes in order to satisfy their customers and ensure long-term profitability.
International shipping: If an online shop offers international shipping, it must deal with additional challenges such as customs clearance, import regulations and shipping costs.
Customer communication and service: Shoppers want to stay up to date and be accurately informed. Providing real-time tracking information and support during the shipping process is therefore important to gain and maintain customer trust.
Packaging & environment: The sustainability of the shipping process has become an additional requirement in recent years. Online retailers must offer environmentally friendly packaging options and, at best, climate-neutral shipping in order to fulfil their ecological responsibility.
Security & theft prevention: The security of products during transport and the prevention of theft must be guaranteed to minimise losses and customer frustration.
Legal regulations: Online retailers must ensure that they comply with all relevant legal and customs regulations, especially when shipping internationally. After all, if a product is held back at customs due to omissions on the part of the online shop, this has a negative impact on buyer satisfaction.
Cost efficiency: Optimising shipping processes to keep costs low without compromising service quality is a constant challenge for online retailers. It is important to regularly review your own processes and existing partnerships.
As an online retailer, you can meet these challenges successfully if you have implemented careful planning processes and efficient logistics - and use the right technology. The right tool can make the processes involved in shipping goods considerably easier. But what does a software solution do to offer retailers and customers the best possible shipping process that ensures a high level of customer satisfaction?
Our tip: Technology-supported shipping and returns processes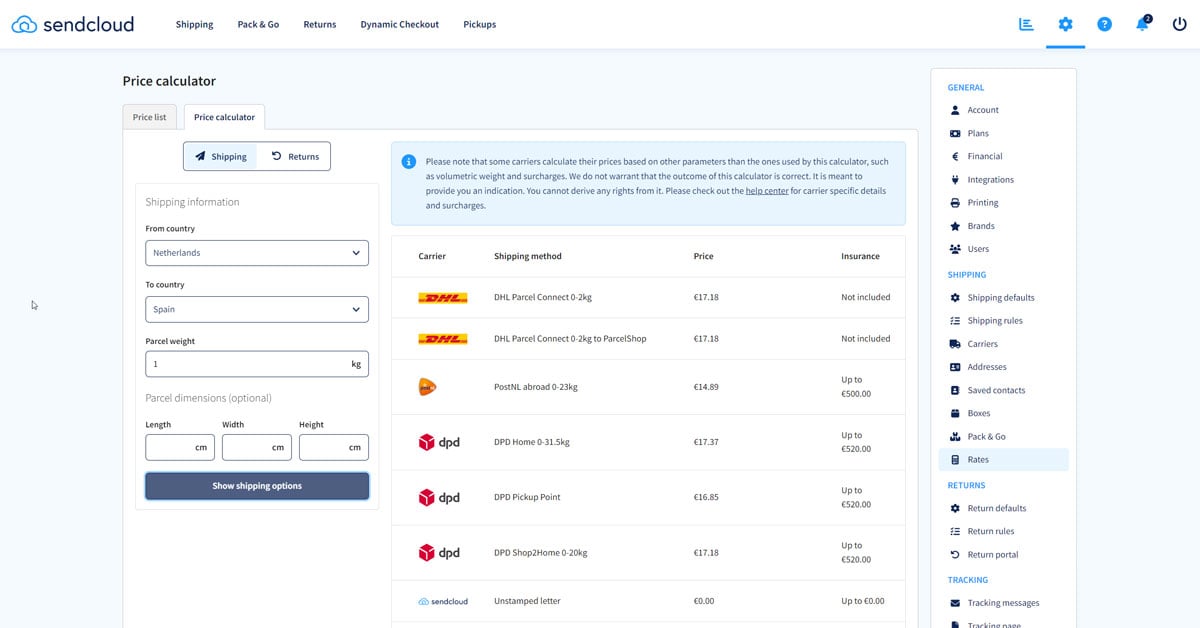 Blackbit has tested various technologies and tools in recent years. In practice, Sendcloud in particular has stood out as a provider that we have already successfully implemented several times and are happy to recommend. And for good reason, as the software solution offers the following functions for online retailers:
Shipping options in the checkout
With Sendcloud, you can offer your customers a wide range of delivery options in the checkout. With more than 100 logistics providers, which in turn support different shipping methods, buyers enjoy a huge selection of shipping options. Additional options, such as delivery on the desired day, further increase customer satisfaction.
Standardised shipping
Create a scalable and error-free shipping workflow with Sendcloud. Thanks to an automated shipping process, orders are ready for dispatch within a short time, e.g. with the help of useful features such as printing shipping labels directly from your own dashboard.
Optimised returns management
A stress-free returns process is just as satisfying for your customers as it is for you. Manage returns from all your sales channels via a central returns management software and let your customers process returns via your returns portal in your corporate design

- including the user-friendly provision of print-ready returns labels

.
Sendcloud shipping protection


Orders processed via Sendcloud are protected against damage, loss and theft during dispatch and return - including a quick and easy claims process.

Sendcloud Tracking
Close communication between check-out and delivery ensures an excellent order and delivery experience that promotes customer satisfaction and loyalty - even for international shipments.
Pack & Go
Sendcloud's packaging solution enables faster order processing and increases your shipping capacity. Error-free picking, either by click or scan, reduces returns and follow-up costs and increases customer satisfaction.
Multi-carrier shipping API
With the Sendcloud shipping API, you can easily add the full range of shipping functions to any shop, WMS, ERP or marketplace without having to consider the requirements of individual parcel services.

Customised shipping conditions & exclusive contracts
Have you made individual agreements with shipping providers? No problem: you can activate your existing contracts and thus have the option of utilising the conditions you have negotiated directly with the providers. For providers with whom you have no contracts, you can use the Sendcloud conditions.
Would you like to integrate Sendcloud?
If you would like to find out more about the possibilities of integrating Sendcloud into your company, please contact us. We will advise you individually and work with you to find out whether Sendcloud is the right solution for your requirements.
Stefano Viani ist Geschäftsführer von Blackbit digital Commerce GmbH. Er ist immer up to date, was neueste Entwicklungen und Trends im E-Commerce und digitalen Marketing angeht. Seit Jahrzehnten ist er für große und mittelständische Unternehmen Berater für die technische, optische und werbliche Optimierung von Webauftritten. Dabei entwickelt er insbesondere Konzepte und Maßnahmen für ein erfolgreiches Absatzmarketing.
Do you have any questions or would you like a personal consultation?
Stay up-to-date with our newsletter