Whether it's university, agency or tennis court: Martin gives his all and has fun doing what he does. No wonder he has grown into his role at Blackbit so well. He introduces himself in this interview.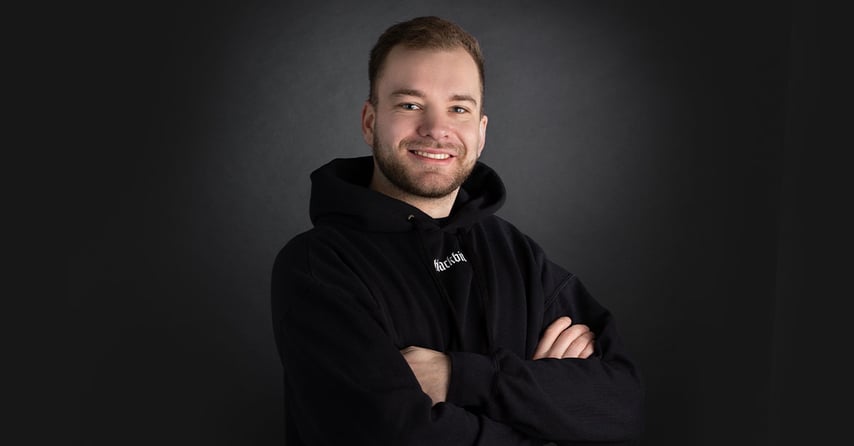 Hi Martin! It's great that you have the time to answer our questions between university and the agency. You've been with us since the beginning of November last year. How well have you settled in?
Thank you, I've arrived very well and I'm regularly happy to work with so many different, interesting people. I really have the feeling that I've landed in a great team!
Thank you, that makes us very happy! What tasks do you take on at Blackbit?
I support the team with all kinds of activities that arise in our own marketing. This ranges from researching newsletters, writing blog posts and post-production of videos to supporting the development of our knowledge platform for customers and team members, the Blackbit Academy.
Which applications do you work with?
Premiere Pro - it offers a wide range of options for editing videos and I really enjoyed familiarising myself with it.
How did you find Blackbit?
I searched the internet for digital agencies in Göttingen to apply as a working student. That's how I came across Blackbit. I really liked the company presentation and just gave it a try. 😊
What experience did you have before Blackbit?
I previously worked for a small start-up in the FMCG sector, where I was responsible for after-sales activities and performance marketing. In my three years at the start-up, I worked with the team to turn an unknown brand into a well-known brand.
I'm also currently studying for a Master's degree in Marketing and E-Business at the University of Göttingen.
What characterises you?
I always question the status quo and like to develop creative new solutions for the challenges I encounter.
Do you see your job more as science or art?
I make art 😉
What's on your desk?
There's nothing there. My desk is always empty and I also make sure it's always tidy.
What do you do when you're not at your desk?
Playing tennis, visiting friends in other cities or preparing new recipes with my girlfriend.
What would be the title of your biography?
Ace-ing Life: My Journey on and off the Court 😊
Game, set and match - we wish you continued fun and success on the tennis court and, of course, at Blackbit!

Stefano Viani ist Geschäftsführer von Blackbit digital Commerce GmbH. Er ist immer up to date, was neueste Entwicklungen und Trends im E-Commerce und digitalen Marketing angeht. Seit Jahrzehnten ist er für große und mittelständische Unternehmen Berater für die technische, optische und werbliche Optimierung von Webauftritten. Dabei entwickelt er insbesondere Konzepte und Maßnahmen für ein erfolgreiches Absatzmarketing.
Do you have any questions or would you like a personal consultation?
Stay up-to-date with our newsletter