All things work together for good - that's what Leon trusts. Our SEO working student talks about the biggest hurdles on his personal path and his start at Blackbit in an interview.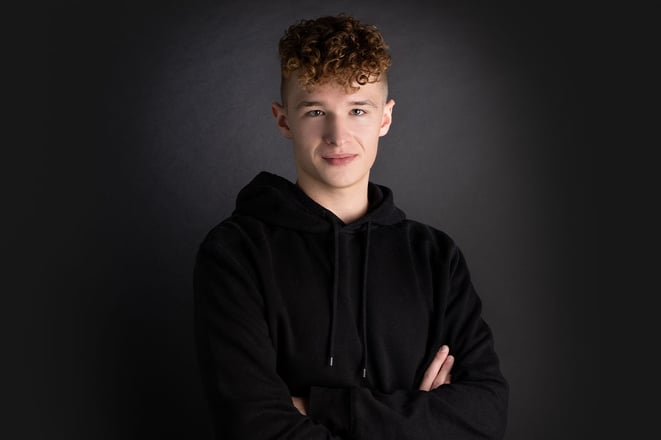 Hi Leon! Nice to have you here. Let's start right away: What led you to Blackbit?
Blackbit was introduced to me at the International University and after a conversation with Daniel Gerlach, I was immediately convinced.
What kind of education do you have?
I am currently studying marketing management at the International University of Applied Sciences in Kassel.
And what professional experience do you have?
A lot! I've already had contact with a wide variety of customers and have experience in using all kinds of marketing tools - and the trend is increasing!
Even though you haven't been with us long, what does the perfect day at the agency look like for you?
With little stress, colleagues in a good mood, clients and most importantly: sunshine! And of course, a good coffee is a must.
Have you always wanted to work in an agency?
Yes, I've always found well-executed and interesting advertising very exciting. Whether this came about through an agency or in-house, in my own marketing department, was not so important to me at first. In fact, the daily routine at an agency is always very varied and constantly connected with new challenges, which makes the work much more exciting.
What do you actually do? How would you describe your work with us?
I create and optimise Google Ads campaigns and ads and carry out various SEO measures. I also have many other tasks in the ever-changing spectrum of online marketing. Keeping up with everything is probably the biggest challenge, but it never gets boring.
Do you consider your job more of an art or a science?
Art!
Is that also reflected in your apps? Which programmes do you use in your everyday life?
Related to professional tasks: Searchmetrics as a tool for SEO optimisation and SEA measures, because it is super versatile and provides suitable tools for content optimisation as well as for helping with keywords. Private: All kinds of programmes for image editing and Spotify!
What personal things are on your desk?
Not so much so far, unfortunately ?
Can you tell us something personal about yourself?
My interest in technology is worth knowing and not always entirely impractical in everyday life. In my circle of family and friends, I always like to be the first point of contact for questions about planned new purchases or technical issues.
What else distinguishes you?
My open nature, and I'm always in a good mood and curious.
Your motto?
All things work together for good.
A healthy basic trust doesn't hurt. When you're not at your desk, where can we find you?
When I'm not at my desk, university takes up a lot of space. Otherwise, I love travelling and photography.
What is your biggest weakness?
(Complex) mathematics without a calculator and attention to detail can sometimes be my downfall. ?
What would be the title of your autobiography?
Courage of Indecision: My Journey through a World of Decisions.
What advice would you then give to your 15-year-old self?
Think less, do more!
When you're ever in a bad mood, what gets you back up?
Definitely comedy podcasts or listening to music, preferably live albums by my favourite artists. Exercising or going for a walk and meeting up with friends are also great for getting back in a good mood.
Thank you for your time and insightful answers! We look forward to working with you in a good mood.
Stefano Viani ist Geschäftsführer von Blackbit digital Commerce GmbH. Er ist immer up to date, was neueste Entwicklungen und Trends im E-Commerce und digitalen Marketing angeht. Seit Jahrzehnten ist er für große und mittelständische Unternehmen Berater für die technische, optische und werbliche Optimierung von Webauftritten. Dabei entwickelt er insbesondere Konzepte und Maßnahmen für ein erfolgreiches Absatzmarketing.
Do you have any questions or would you like a personal consultation?
Stay up-to-date with our newsletter