Pimcore Inspire 21: Blackbit Is on Board
As a Pimcore Gold Partner, our participation in the digital conference is secure. Preparations are in full swing and we are looking forward to an exciting event and inspiring input. Let's go to Pimcore Inspire!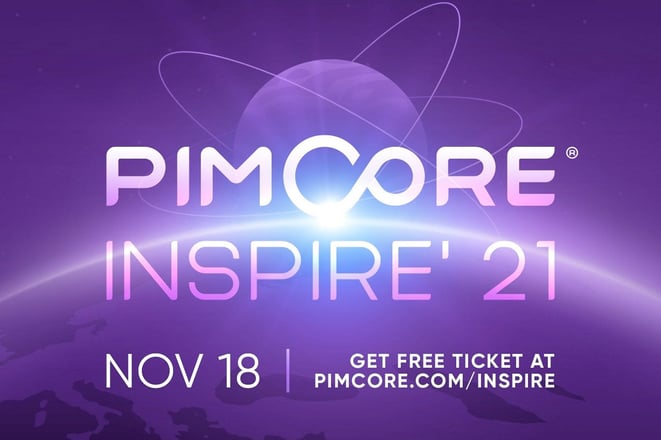 Save The Date: 18. November '21
This year, the Pimcore community will gather at the Pimcore Inspire digital conference on November 18 to learn about the latest product features and the Pimcore roadmap, listen to talks from all corners of the Pimcore universe, and engage in conversation. Blackbits CEO Stefano Viani will also contribute to the program again this year with a contribution from the field. The topic: the integration of Hubspot via Pimcore at long-time Blackbit customer Antonio Viani Importe GmbH.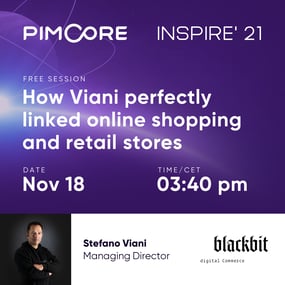 Strategic Consulting
IT Services
Digital Marketing
Pursuit of the 3C strategy
Blackbits web developer and Pimcorenaut of the year 2019 Jan Walther will also be contributing to the Pimcore Inspire, showcasing the powerful Data Director Bundle with a live demonstration.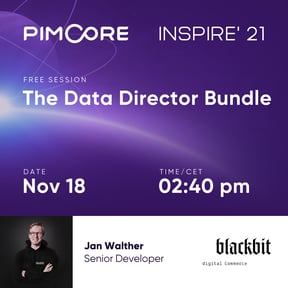 Create imports and exports

Advantages/comparison compared to other import & export plugins for Pimcore.

Live demo: configuration of an import and an export

Creation of REST APIs (import and export interfaces to external systems)

Automation of imports, exports and data checks
Be there!
This year, participation in Pimcore Inspire is free and open to all interested parties. Secure your ticket now and get to know the powerful Pimcore platform even better, discover new possibilities and find out what the future holds with Pimcore.
Don't want to wait?
If you already have questions about Pimcore and the possibilities of the open source platform, feel free to contact us directly!