E-commerce has long since ceased to be a new trend and has become an integral part of the retail sector - with its importance continuing to grow: While brick-and-mortar retail only grew by around 1% in 2018, online retail was able to generate almost 10% more sales than in the previous year (source: Handelsverband Deutschland).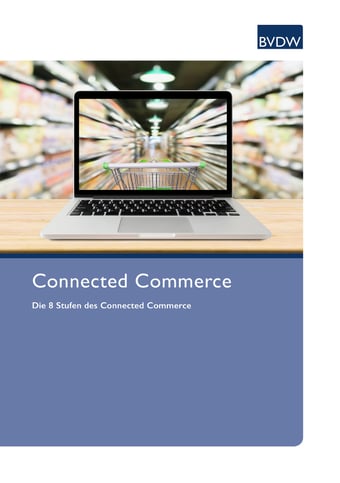 In order to support stationary retailers in their step into the online market and to show the advantages of integrating both sales worlds, the Bundesverband Digitale Wirtschaft (BVDW) e.V. has published the guide "The 8 Steps of Connected Commerce".
Blackbit CEO Stefano Viani also shares his digital commerce experiences in the brochure, which is available free of charge. In an interview, he elicited exciting information from magnalister founder Peter Mähner about potentials and hurdles in connecting online marketplaces.
An overview of the stages of connected commerce
On their way to making a purchase, customers have long since ceased to differentiate between offline and online. Much more important to consumers than the place of purchase is a high level of individual service quality. Successful companies are therefore increasingly relying on seamless support for all touchpoints that are relevant to their target group. Connected Commerce is about precisely this dovetailing of all customer touchpoints and the linking of brick-and-mortar retail and online retail.
The following 8-stage model is clearly explained in the chapters of the current BVDW guide using practical examples:
Stage 1: Sensitization of stationary commerce.
Stage 2: First steps and experience online
Stage 3: Electronic merchandise management system
Stage 4: Connection to established platforms with partial product range
Stage 5: Strengthening online presence with a full-range solution
Stage 6: Learn and apply cooperative thinking & action both online and offline
Stage 7: Share advantages of local sites
Stage 8: Identify new business opportunities from linkage and develop services
Who is the BVDW guide aimed at?
The BVDW brochure is primarily aimed at stationary retailers who want to familiarize themselves with the topic of connected commerce or develop further in this area. Regardless of whether you as a retailer are not yet represented online, have had your first digital experiences, or already have a diverse presence on the Internet - the guide shows you suitable ways to advance your own digitization and linking of your retailer activities.
Customized Connected Commerce Consulting
Do you want to leverage the potential of Connected Commerce for your business success, but don't know how? Whether it's developing new business strategies or choosing the right technology for implementation - we'll be happy to support you with our digital commerce expertise. Arrange your consultation appointment now.
Stefano Viani ist Geschäftsführer von Blackbit digital Commerce GmbH. Er ist immer up to date, was neueste Entwicklungen und Trends im E-Commerce und digitalen Marketing angeht. Seit Jahrzehnten ist er für große und mittelständische Unternehmen Berater für die technische, optische und werbliche Optimierung von Webauftritten. Dabei entwickelt er insbesondere Konzepte und Maßnahmen für ein erfolgreiches Absatzmarketing.
Do you have any questions or would you like a personal consultation?
Stay up-to-date with our newsletter