The family-owned company Bense & Eicke manufactures horse and leather care products. The products, which are mainly based on natural raw materials, are distributed from Einbeck throughout the world. We look back on almost 20 years of trustful cooperation with Bense & Eicke. Most recently, Blackbit revised the design of the homepage and established a future-proof store system that clearly focuses on the products, enables easy operation and meets all challenges of a customer-specific price scale.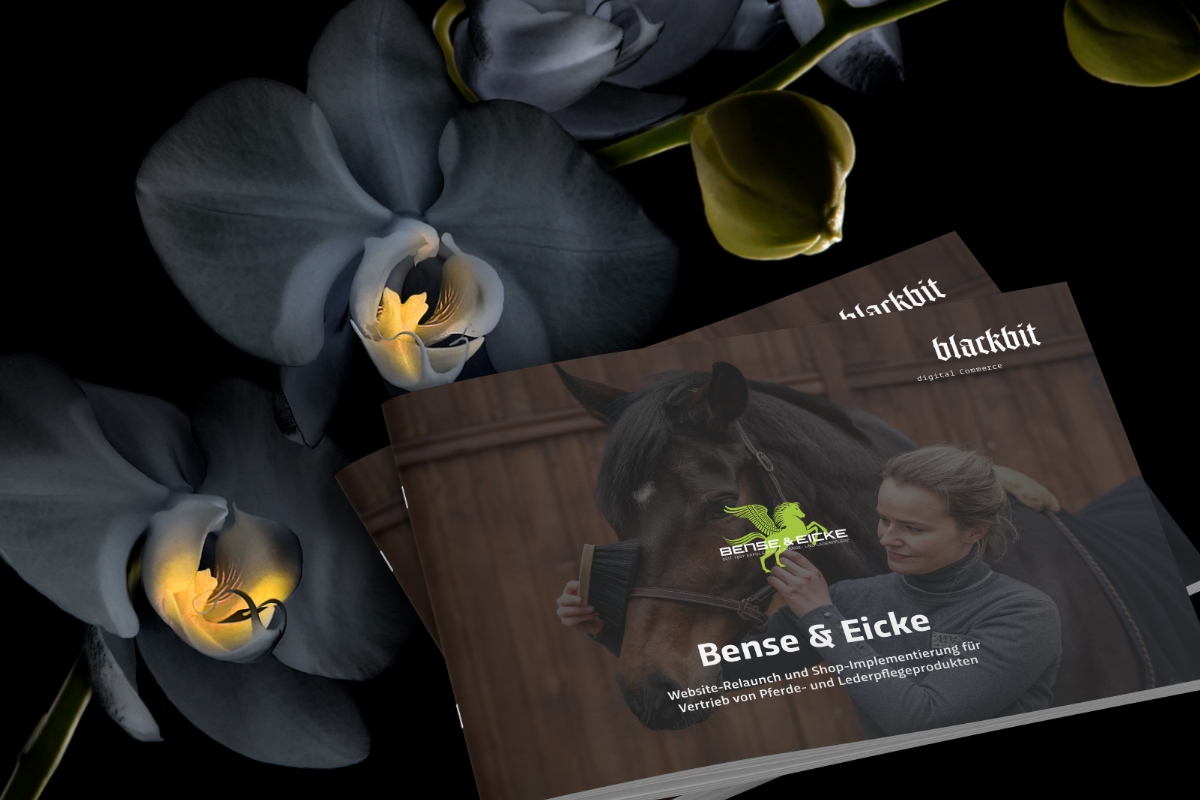 A store system that meets the market
In order to meet the extensive requirements of Bense & Eicke's customers, Blackbit relied on Shopware 6 for the store system. The intuitive user interface guarantees simple editorial work on the sales side and offers any number of expansion options for a possible B2C market development. Shopware's RuleBuilder was selected for the customer-specific pricing in order to display differentiated offers and price scales. The still new Shopware version required Blackbit's experience during the store configuration, as functional gaps had to be closed with the help of Blackbit's in-house plugin development.
Uniform appearance - from the label to the homepage
Already at the beginning of the cooperation between the Einbeck-based company and Blackbit, the design of the product labels was Blackbit's responsibility. With the redesign of the homepage, the spotlight was consistently placed on products made from natural ingredients. For this purpose, a balanced relationship between words and pictures was forced and completed by a user-friendly and clear graphical interface of the store.
Website and online store under one address
The focus of the web presence of the horse and leather product manufacturer is the online store, which was supplemented by various contents. With the help of the Shopware plugin "Erlebniswelten", content in the form of a blog or news rider can be easily added and updated. In addition, the pages are used for further product placements as well as recommendations and introductions of the customer's partner companies.
New ideas for your business
Are you inspired by this development? You can find the complete case study here.
Contact us and together we will find out how you can sustainably increase your company's sales in e-commerce.
Stefano Viani ist Geschäftsführer von Blackbit digital Commerce GmbH. Er ist immer up to date, was neueste Entwicklungen und Trends im E-Commerce und digitalen Marketing angeht. Seit Jahrzehnten ist er für große und mittelständische Unternehmen Berater für die technische, optische und werbliche Optimierung von Webauftritten. Dabei entwickelt er insbesondere Konzepte und Maßnahmen für ein erfolgreiches Absatzmarketing.
Do you have any questions or would you like a personal consultation?
Stay up-to-date with our newsletter