With the ongoing war in Ukraine, it's not always easy to cope with everyday life. But with the support of family and dog, our new backend developer keeps his unshakable faith in victory over the Russian invaders.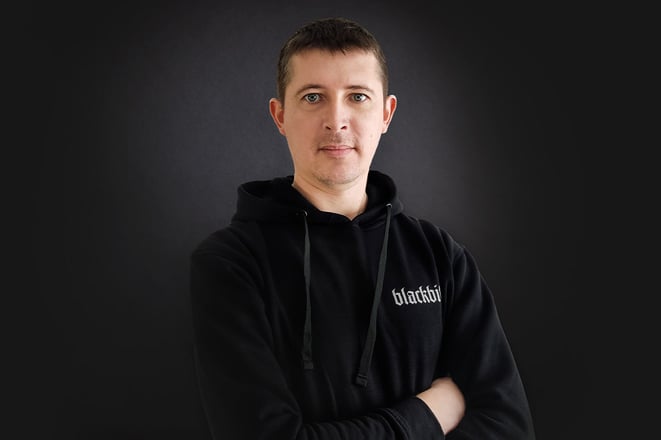 Hello and welcome to Blackbit and to our team Kiev. For those who don't know you yet: Who are you and what do you do at Blackbit?
My name is Dmytro Derkach and I am a backend or pimcore developer.
Why did you choose to work at Blackbit?
I always wanted to work in an agency. I came to Blackbit through a recommendation from Alexander Strizhakov. He brought me into the team.
What education do you have and what work experience have you already gained?
Actually, I am a trained electrical engineer, but my current knowledge as a developer is self-taught. Before I started at Blackbit, I worked exclusively in PHP development.
And which programmes do you prefer to use for your work and why?
I work with PHP, Laravel, Symfony, MySQL, PostgreSQL, JS, Vue, JQuery, Pimcore, Git and some others. That's how I do all my tasks.
And what's on your desk? How can we imagine your workplace?
Besides my laptop, keyboard, mouse and monitor, you can only see my headphones and speakers. Oh yes, and something to write with. The only private things are the pictures of my children.
What qualities distinguish you? What kind of person are you?
In my job, above all, perseverance, persistence and good self-organisation. But actually I am a very cheerful and open person and always try to be there for others.
What does the perfect day at the office look like for you?
Very simple: I work from home - that's perfect. But from time to time I miss the days when I worked in the office and we had fun in our team. Hopefully those days will come back soon.
What do you do to get back into a good mood when things aren't going so well?
I play with my dog. She understands me without words.
When you're not at your desk, where can we find you?
At the moment, I prefer to spend my time with my family. Before the Russian invasion, also very much in our summer house. I went fishing with my friends and cycled with my wife. Now all that is no longer possible, or only to a very limited extent.
Do you think your work is more art or more science?
Science!
What is your biggest weakness?
I am very pedantic, which can sometimes be exhausting for me and others.
What would be the title of your autobiography?
Chronicles of a man who was afraid to take risks.
And the big goals in life? What's on your bucket list?
At the moment, the only goal is to defeat Russia. But once that's done, I'd like to build or buy a house, and I'd like to take a long trip on a cruise ship one day.
Looking back, what advice would you give to your 15-year-old self?
Get rid of Vladimir Putin before he kills thousands.
It sounds harsh, but it's understandable. We thank you for your honest answers and your time and look forward to a productive collaboration with you - even in the face of the ongoing war.
Stefano Viani ist Geschäftsführer von Blackbit digital Commerce GmbH. Er ist immer up to date, was neueste Entwicklungen und Trends im E-Commerce und digitalen Marketing angeht. Seit Jahrzehnten ist er für große und mittelständische Unternehmen Berater für die technische, optische und werbliche Optimierung von Webauftritten. Dabei entwickelt er insbesondere Konzepte und Maßnahmen für ein erfolgreiches Absatzmarketing.
Do you have any questions or would you like a personal consultation?
Stay up-to-date with our newsletter