The strong growth of online retail in the German market, which has been further fuelled by the coronavirus pandemic, is attracting more and more companies to the internet. They need their own online shop in order to meet the changing purchasing behaviour of consumers and compensate for the slump in sales in bricks-and-mortar retail. But how do you find the right e-commerce platform or the best shop system for your business?
In this blog post, we will show you what is important when comparing e-commerce software and which criteria you should consider when deciding on an online shop system to ensure a successful entry into the e-commerce market.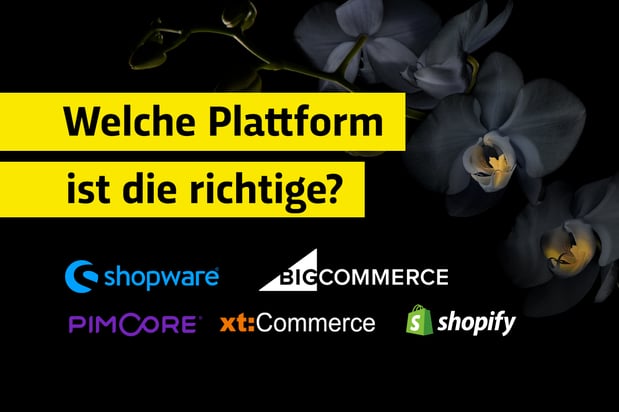 Integrated platform or best of breed?
Is it better to choose the best solution for each area of application and integrate it into your own IT structure (best of breed) or should you opt for an integrated e-commerce platform from a manufacturer, which usually works like an e-commerce construction kit? Both the all-in-one solution and the best-of-breed option offer various advantages and disadvantages for a shop system:
Integrated platform
Advantages
Usually many marketing and e-commerce functions as well as other out-of-the-box tools
Consistent processes in the administration and frontend (as there is little to no need to maintain interfaces or ensure compatibility between systems)
Very good user experience for visitors and high efficiency in administration
Disadvantages
More suitable for large companies due to higher investment costs
Best of Breed
Advantages
Combined, specialised systems are often superior to an integrated platform in terms of their partial functionality
Particularly suitable for small shops and medium-sized companies due to lower investment costs
Disadvantages
Interfaces often limit the usable range of functions (the actual usable range of services may fall behind that of an integrated platform)
The more extensions are installed in the online shop, the more complex maintenance becomes and the more unstable the operation. Tip: Choose an e-commerce solution that already covers most of the required functions as standard so that as little additional software as possible needs to be connected.
Software as a service or on-premise e-commerce platform?
You should also take a closer look at the operating and licence models to find the right shop system for your e-commerce goals.
Initial costs
With on-premise solutions, the software licence must be purchased. This results in higher initial costs. With SaaS solutions, on the other hand, the upfront investment is significantly lower. Here, the customer rents the application including hosting and usually pays a monthly fee.
Performance
Cloud-based SaaS solutions generally run with good performance. However, on-premise platforms such as xt:Commerce can outperform even SaaS giants such as Shopify in terms of performance. However, this requires the appropriate technical expertise. This is because maintenance, monitoring and backups must be carried out by the agency and the customer themselves.
Data protection
When it comes to data protection, many online retailers and companies feel more secure with an on-premise solution. This is because customer data is stored on their own server. In reality, however, cloud companies adhere to technical and legal standards that are difficult to realise for individual companies that host their servers themselves.
Open source solution or licence software for the online shop?
When choosing the best e-commerce platform, you should also compare the advantages and disadvantages of free software and licensed software and check which online shop solution suits your company.
Open source software
Advantages
No licence costs
Rapid further development possible if the software is supported by a large developer community
Source code can be viewed and edited --> bugs can be fixed by anyone
Software can be modified and customised to your own needs
Disadvantages
If the community is inactive, further developments quickly come to a standstill
Often there are no guarantees or support from the manufacturer (shop operator is dependent on help from the community)
Due to the more open source code, security-relevant vulnerabilities can be found and exploited more quickly
Licence e-commerce software
Advantages
Guarantees and support from the software manufacturer
The manufacturer takes care of the security of the e-commerce software and provides patches
Disadvantages
Licence costs
Often fewer innovative/customised solutions and extensions available than with open source systems
In order to combine the advantages of the open source variant with those of licensed software and to exclude possible disadvantages, many manufacturers of open source software offer enterprise subscriptions. These ensure regulated customer service, offer guarantees that are otherwise lacking and additional functional add-ons.
B2B e-commerce: Which criteria are relevant when choosing a shop system?
B2B e-commerce has special requirements compared to B2C online retail:
often more complex pricing (e.g. individual prices at item level, discounts for bulk purchases, special conditions for selected customer groups)
Different logins under one customer account, which should be managed by the customer themselves
Extended shopping basket functions (e.g. shopping suggestions based on previous orders, seasonal events and current campaigns)
If an e-commerce platform is to serve both B2B and B2C customers, product ranges, pricing and special functions must be carefully differentiated. Sometimes even the presentation of the articles differs in that B2B customers are offered additional information. The demands on the shop system used therefore increase enormously with this requirement.


Blackbit provides you with expert support when it comes to choosing a platform
Our shop system comparison shows: There is a lot to consider when choosing the right e-commerce platform. Take your time and carefully weigh up the decision in favour of an online shop system from both the customer and retailer perspective. This is the only way to avoid making a bad investment in a system that, in retrospect, is not the best fit for your e-commerce company and your customers.
As an experienced digital commerce agency, we are happy to help you define your requirements and advise you personally on choosing the right e-commerce solution. We have been using the Pimcore (CoreShop) and xt :Commerce platforms for e-commerce projects for many years. We have also been supporting online retailers for some time with BigCommerce, Shopify and Shopware - all three are recommended by the renowned IT market research company Gartner, among others.
The decision in favour of a shop system is of course only one of the first steps on the road to e-commerce success. On request, we can also support you in setting up and customising your e-commerce platform and in developing and implementing online marketing strategies to achieve your goals in the long term. Arrange a non-binding consultation now.
Stefano Viani ist Geschäftsführer von Blackbit digital Commerce GmbH. Er ist immer up to date, was neueste Entwicklungen und Trends im E-Commerce und digitalen Marketing angeht. Seit Jahrzehnten ist er für große und mittelständische Unternehmen Berater für die technische, optische und werbliche Optimierung von Webauftritten. Dabei entwickelt er insbesondere Konzepte und Maßnahmen für ein erfolgreiches Absatzmarketing.
Do you have any questions or would you like a personal consultation?
Stay up-to-date with our newsletter