Position Zero on Google is the best position in the competition for the highest traffic. Learn how to place your site at the top of the results pages - using the example of CRB Analyse Service GmbH, for whom Blackbit achieved the coveted position.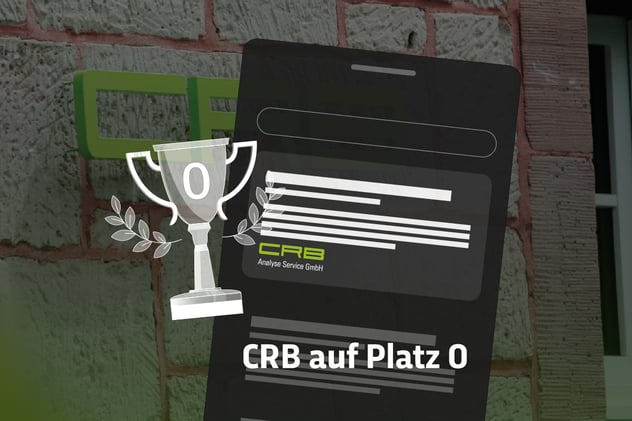 Position Zero - what is that?
The "Position Zero" is the entry that stands above all other results on Google's search results pages as a clearly highlighted, so-called "Featured Snippet" - and thus even before all paid ads or results from the organic search. Frequently, web authorities such as Wikipedia, whose content stands for high-quality content, are found there.
In return, Google provides a compact answer to a specific question or definition of a specific search term from the content of a website, often supplemented by an explanatory graphic or an example photo. This excerpt from a website also stands out visually from all subsequent entries through its format and font size.
Position Zero: How you benefit
The Featured Snippet is the first thing users of the search engine see. Companies that successfully place their website there - or have an agency that does this for them - usually see a significant increase in the number of hits. You and your company will profit considerably from this:
Increasing traffic
The conspicuous placement of the entry makes it immediately clear to users that your site offers content relevant to their search. Position Zero therefore brings you more site visitors and, as a result, usually also increasing sales figures.


Gaining trust for your site
Google places your page at position 0 and thus declares you to be the expert for the searched topic. This is a considerable sign of trust, which Google users usually trust blindly.


Voice-based search


The growing number of voice-based searches is becoming increasingly important for successful SEO optimisations of a page - not only since ChatGPT. Because anyone who instructs a search via smart devices such as Echo, Google Home or the Apple Home Pod receives a voice output of the featured snippet from position 0 as a response - and nothing else. In this way, Google gives your content a quasi-monopoly position.
The downside of the Featured Snippet
Landing in position zero, however, can also have negative consequences. For those who already receive a satisfactory answer to their question on the Google results page may not visit the cited page again afterwards. The result: Google benefits from reproducing your content and providing users with the answer they are looking for, but your traffic and sales figures do not increase.
In our experience, it is still worthwhile for companies to aim for placement in position zero, because the reverse seems to be the case far more often: Users who see the Featured Snippet become aware of your site and visit it to learn more or to buy products and services.
The path to position 0 on Google
After the CRB page went online in September 2022, it made it to position 0 right away thanks to the FAQ. Our SEO team helped the page climb steeply with these measures:
Researching FAQs & relevant keywords
Google only generates the Featured Snippet format for particularly frequently asked and reliably recurring questions. Therefore, before any targeted optimisation of a page for the position Zero, the most relevant questions for a topic area must be analysed with the help of a suitable SEO tool. Covering the necessary keywords in the text portion of a website goes without saying.
Structure your content sensibly
Users on the web tend to show similar behaviour patterns, which Google also responds to - keyword "mobile first". Google rewards this if your website also accommodates user behaviour. The basic prerequisite is a sensible headline structure (H-1, H-2, etc.) and a concise, easy-to-grasp answer to the question posed.
Answer with images
Google prefers to illustrate the entry at position 0 with a meaningful image. This sometimes even leads to the textual content of a website being combined with images from another source in order to provide users with the best possible answer. Therefore, make sure that your content is adequately illustrated and that your images and graphics show what they represent in text. Bonus points are awarded for original content: use your own graphics, which also visually distinguish your content from competing offers.
Offer real added value
Overly complex and comprehensive topics are not suitable for the Featured Snippet, as they would blow up the format. Answers that can be easily packaged in numbers, data and facts are even more so. When searching for topics for position zero, always keep an eye on the current Google Trends.
Serve technical requirements
In addition to purely textual and graphical content, purely technical criteria such as short loading times and optimisation for display on mobile devices as well as accessibility of the content offered are also important.
Integrate your content in the best possible way
Content that has made it into the Featured Snippet never stands alone. This is because Google does not evaluate it alone, but the entire thematic and technical environment. High-quality content is always flanked by other relevant content from related subject areas and supported by the reputation of your site.


Update your content regularly
This rule does not only apply if you want to make it to position zero. By regularly revising your texts and adapting them to the latest factual and informational situations, you show Google that you are continuously working on the quality of your content and are making an effort to always be able to provide users with a relevant answer to their search queries.
Conclusion: Relevance and structure increase your chance to reach position zero
Featured snippets cannot be bought or booked, nor is there any guarantee that your content will make it into a highlighted search result. However, you have the best chance of doing so if you proceed strategically and are prepared to work on your goal in the long term. Because the investment pays off - whether or not you end up at number 0: you benefit from increased attention from users and the associated strengthening of your brand, which leads to higher click-through rates and sales figures in the long term.

Together with you, we develop your strategy for better rankings in Google search results and implement it directly - contact us now!
Stefano Viani ist Geschäftsführer von Blackbit digital Commerce GmbH. Er ist immer up to date, was neueste Entwicklungen und Trends im E-Commerce und digitalen Marketing angeht. Seit Jahrzehnten ist er für große und mittelständische Unternehmen Berater für die technische, optische und werbliche Optimierung von Webauftritten. Dabei entwickelt er insbesondere Konzepte und Maßnahmen für ein erfolgreiches Absatzmarketing.
Do you have any questions or would you like a personal consultation?
Stay up-to-date with our newsletter