Jan's dedication keeps his list of awards and certificates growing: Our Pimcore developer was already "Most Valuable Pimconaut of the Year" in 2019 and winner of the Pimcore Community Rally in 2020. Now comes the next award: "Open Source Contributor of the Month". Congratulations to you, Jan - keep it coming!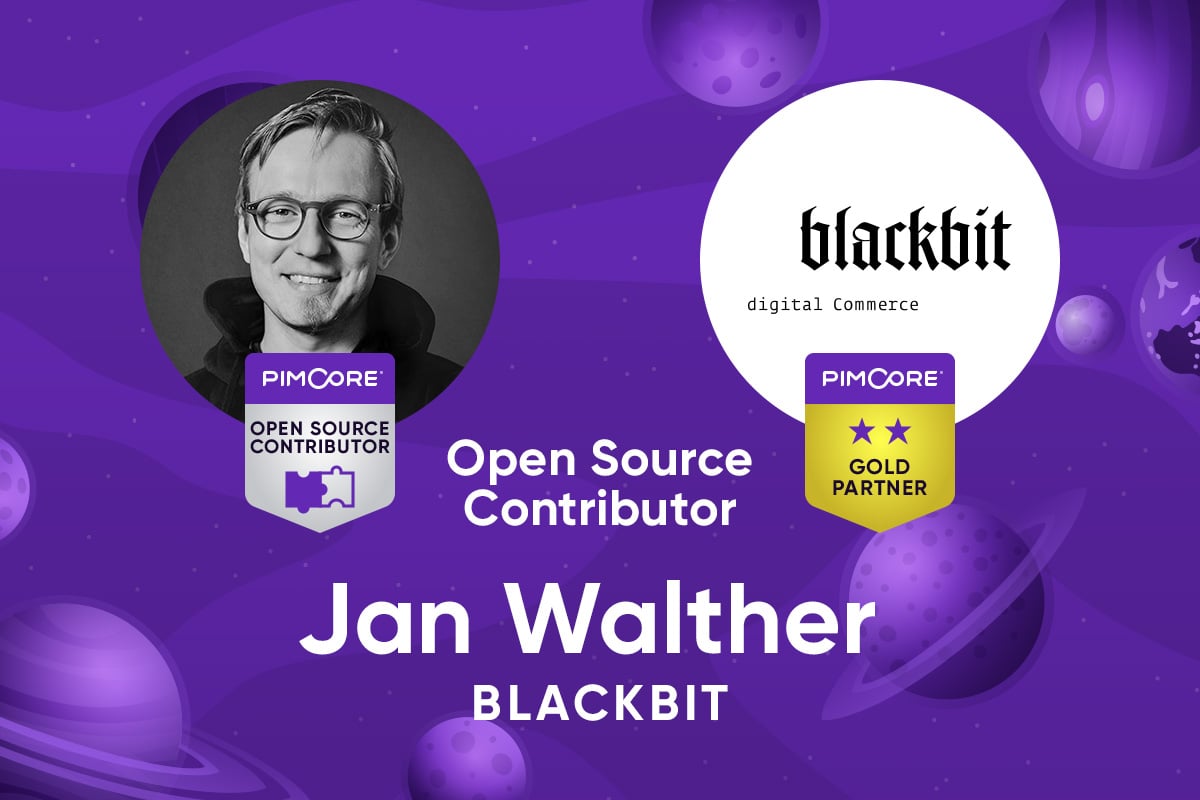 One for all, all for one
As an open source-based platform, Pimcore relies on a vibrant developer community. We at Blackbit are proud to have Jan, a particularly passionate and productive developer, in our ranks. Committed to the community, it is very important to him to share his knowledge with the rest of the Pimcore world. In this way, other developers benefit as much as Pimcore and its users from Jan's performance. That's why our Senior Developer Jan Walther is being recognized again this month for his tireless efforts.
Open Source Contributor of the Month
The development of Pimcore is transparent, traceable and publicly accessible. Daily discussions, professional exchange and mutual inspiration in the community let Pimcore become better and better. The participation of the community of developers like Jan are essential for the success of Pimcore and the satisfaction of its users. The more than 250 active developers consistently contribute to Pimcore's development, and as of July 2021, Jan was the strongest supporter of the platform. His contributions have made a huge difference to the entire Pimcore community as well as many users and customers. Congratulations on being named Contributor of the Month, Jan!
Pimcore expertise and detail-oriented foresight.
Jan's expertise is rewarded with personal accolades, but his success benefits everyone - especially our customers and their projects. Our long-standing partnership with Pimcore is constantly intensifying thanks to Jan, strengthening our visibility as a digital agency in the Pimcore cosmos. At the same time, we are getting better at creating customized solutions for our clients' projects and requirements.
Thinking about switching to Pimcore or want to see if one of our tools could boost your website's performance? David Gottschalk will be happy to advise you on all the possibilities around Pimcore.
Stefano Viani ist Geschäftsführer von Blackbit digital Commerce GmbH. Er ist immer up to date, was neueste Entwicklungen und Trends im E-Commerce und digitalen Marketing angeht. Seit Jahrzehnten ist er für große und mittelständische Unternehmen Berater für die technische, optische und werbliche Optimierung von Webauftritten. Dabei entwickelt er insbesondere Konzepte und Maßnahmen für ein erfolgreiches Absatzmarketing.
Do you have any questions or would you like a personal consultation?
Stay up-to-date with our newsletter