---

If you regularly browse through your Facebook fan page stats, you may have already discovered them: the new Insights for local businesses. The tool has been available in the U.S. since November 2015 and has now been rolled out to German-speaking countries. We present the most important functions and advantages for advertisers.
What functions does Local Insights offer?
Local Insights allow companies to learn more about people in their immediate vicinity. The new statistics are based on anonymized data from Facebook users who are in the vicinity of the company's location. For page operators, Local Insights offers the following possibilities:
Get to know the neighborhood: define a radius and an evaluation period and find out, for example, on which day and at what time most Facebook users were in the vicinity of your company.
Evaluate demographic information: Gain insights into the age, gender, and location of people near your location.
Draw conclusions for marketing: Tailor your Facebook activities and advertising efforts to users' habits.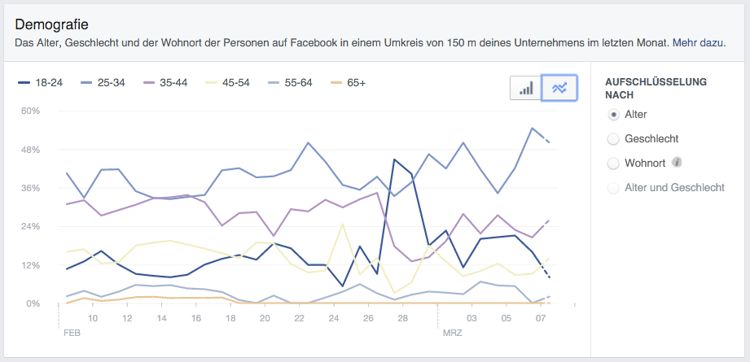 How do advertisers benefit from the new insights?
Local Insights helps you deliver relevant content and run ads tailored to your neighborhood. For example, use the tool to evaluate whether your ads are actually reaching the desired target group. Find out at what time of day and on which day of the week your ads have the greatest impact. Or refine your targeting based on the demographic data collected.

Where can I find Local Insights?
You can find Local Insights in your page stats. Simply log in with your Facebook account, open your fan page and click on "Statistics" at the top of the page. Then select "Nearby" from the left menu.
Have fun discovering, evaluating and optimizing!
---
André Reß is an expert in the field of online marketing. He not only understands the conception of online advertising campaigns, but also uses his many years of experience in search engine marketing to ensure that these activities are effective and achieve the goals of the clients. This is also ensured by his web analyses, conversion tracking and optimisation. As a certified Google AdWords expert, he also has a command of all the tools needed to make online marketing strategies even more efficient.
Do you have any questions or would you like a personal consultation?
Stay up-to-date with our newsletter