Million investment for Pimcore
Blackbit has backed the right horse with Pimcore, the successful Austrian open source platform for Product Information Management (PIM), as a Pimcore Gold Partner: The alternative to traditional proprietary systems in the enterprise software market continues to be on the road to success, receiving $3.5 million in funding from the financing round conducted by Munich-based Auctus Capital.
And with this investment comes the next logical step: Pimcore acquires Global Services, founded in 2017 and based in the USA, including outsourcing infrastructure in Delhi, with which Blackbit has already been working in a trusting relationship for over a year. The company is an innovative provider of digital transformation services and boasts notable clients such as Continental, Ingram Micro and Pepsi.
The fresh capital will be invested in building out the additional cloud and subscription services, which include global service level agreements and add-ons to the open source product.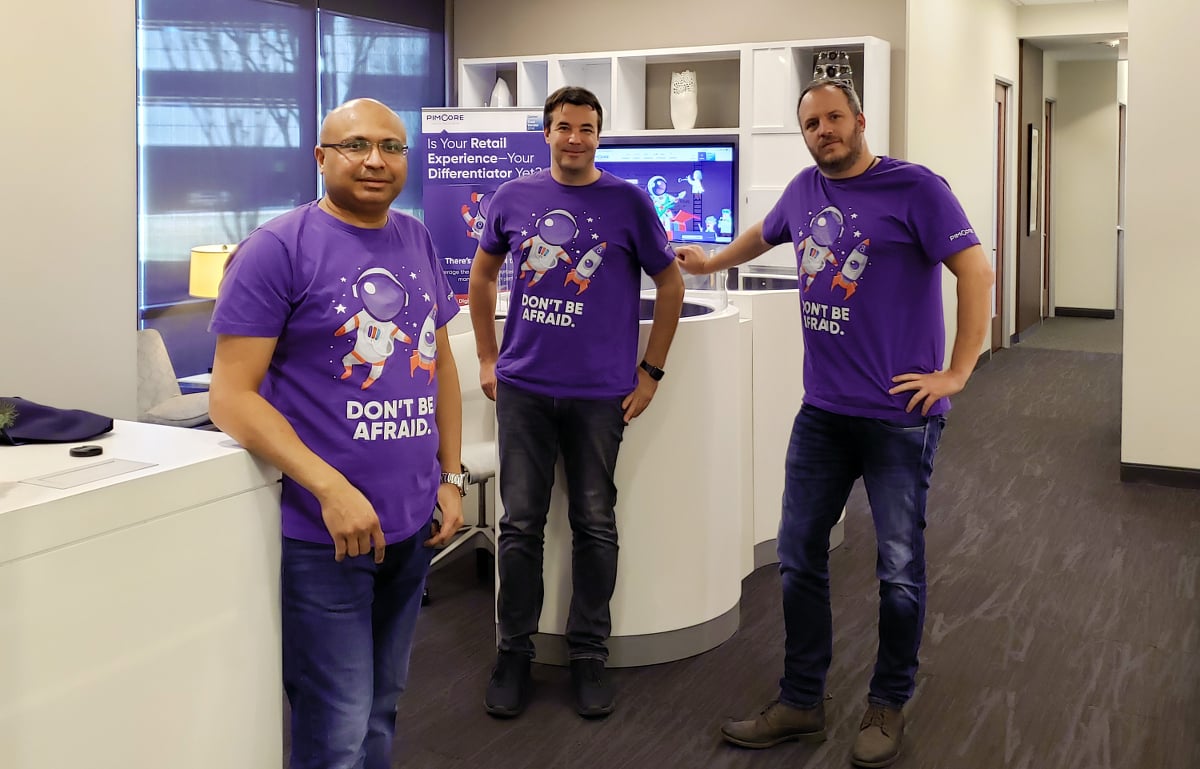 Pimcore group photo - Open source is on the rise. The entire Pimcore team is excited about the $3.5 million investment. (From left: Shashin Shah (CEO of Pimcore Global Services), Roland Dessovic (Pimcore Managing Director) and Dietmar Rietsch (Pimcore Managing Director).
Blackbit in best company
Pimcore's flexibility and unique interoperability did not only inspire us: Pimcore's solution is already successfully used by more than 82,000 companies in 56 countries and counts industry giants such as Audi, Burger King, Carrefour, Peugeot and Intersport among its customers. More than 100 certified partner agencies and system integrators worldwide are convinced of the innovative platform for data and customer experience management provided as an open source product. And Blackbit has also already implemented outstanding projects with satisfied customers on a Pimcore basis and can show considerable respect successes: in 2016, the Viani online store we created was awarded "Most Innovative Webshop of the Year" at the Shop Usability Awards in Munich, and this year our customer Hamburg@work received the "Digital Champions Award" for the North Region in the category "Digital Transformation and Digital Services".
"Open source is on the move," explains Dietmar Rietsch, CEO of Pimcore. "Modern enterprises were looking for flexible alternatives to expensive solutions from industry giants such as Informatica, SAP, Oracle, IBM and Adobe. They want to keep their intellectual property and need a platform that enables and drives digital transformation."
And Pimcore's outlook is promising as the potential market grows, with each market segment showing annual projected growth between 18.3 percent for digital asset management and up to 25.3 percent for PIM and MDM for 2016 to 2021.
Pimcore is consistently moving closer to its goal of becoming the leading platform for integrated data and customer experience management and is already planning its next strategic step: joining analyst Gartner's Magic Quadrants and Forrester's Waves within the next two years. This year, Pimcore was awarded "Gartner Cool Vendor 2018 for Digital Commerce" by Gartner.