Fitstore24 easily coped with the huge rush for sports and fitness products during the first lockdown: Fitted with new shopping functions and a Pimcore system for processing, the sports mail order company with its fresh design was able to record unexpectedly large order volumes and easily manage the emerging data volumes.
From e-bikes to yoga mats, jump ropes to running shoes, everything related to physical activity was more than in demand in Digital Commerce during the initial closures due to Corona and the period that followed. People were pushing outdoors, devoting themselves to running, cycling, hiking and many other outdoor activities. The appropriate accessories could not be missing. Closed stores led customers in search of information and a wide range of products to online stores.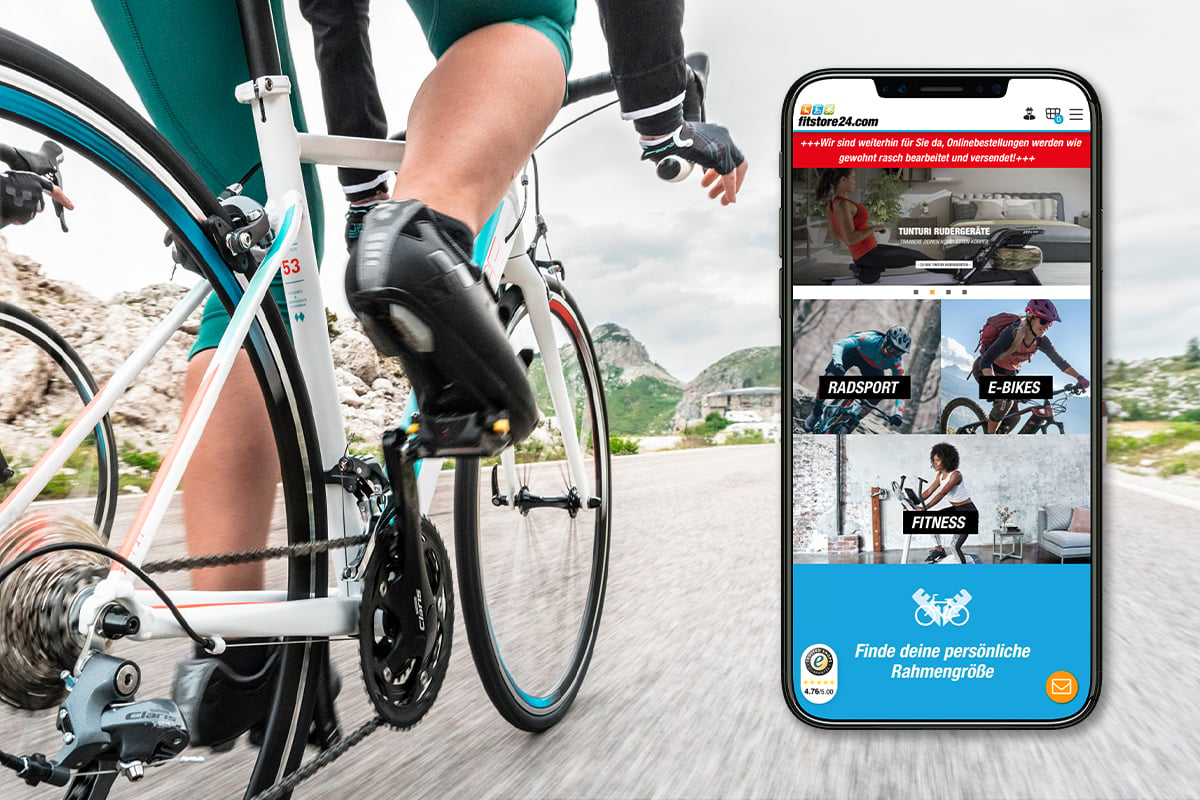 Fitstore24 approached Blackbit with pure sales targets. Thanks to Blackbit, the platform is now even setting the best example in times of accelerated digitization: it is coming a few important steps closer to its target group in search of specific products. After a broad-based online marketing offensive via Google Ads, many new users also quickly became aware of the shopping platform's offering and its modern functionality in up-to-date design.
Online shopping on the next level
One of the most important new features in the store is an efficient filter that makes individual product searches easier and faster for customers because it leads directly to the product categories, brands or individual items they are looking for.

For all those who are looking for a new bike in times of closed stores, however, the highlight of the new functions is the frame configurator: an innovative tool that determines the individual frame size based on the stride length, and then automatically displays all matching bikes in the company's inventory. A successful innovation that not only replaces a form of expert advice, but also a trip to the store.

Blackbit rounded off the new version of Fitstore24.com with an info center where customers can get advice on everything to do with e-bikes, bicycles and fitness. A welcome and service-oriented addition that accommodates users when shopping online. Optimization for mobile devices also improved the shopping experience on the go.
Benefits for operators thanks to Pimcore
Processes following product selection, such as registering and placing orders, generate data, the management of which Blackbit also simplified. With the powerful Equipped with the PIM system Pimcore, data from the merchandise management system is imported into Pimcore and then fed into the newly set-up xt:Commerce store.

All information can now be maintained centrally, time-consuming manual maintenance of individual data is eliminated, and edited data is automatically transferred from the PIM system to the store system and to the xt:Commerce content manager.
With the PIM system Pimcore, however, Blackbit not only accelerated and simplified the management of product, customer and order data, but also enriched the company with new forms of work. This is because the web-based platform enables access on the road or completely corona-friendly from the home office.
Staying on the ball for top success in e-commerce

Before the game is after the game: Blackbit was even able to exceed the requirements set by Fitstore24 in terms of sales, but is not resting on its laurels. We are already working on new growth strategies for the company and will be happy to report on the next part of this success story.

Learn more about Fitstore24's successes in our new case study.
Stefano Viani ist Geschäftsführer von Blackbit digital Commerce GmbH. Er ist immer up to date, was neueste Entwicklungen und Trends im E-Commerce und digitalen Marketing angeht. Seit Jahrzehnten ist er für große und mittelständische Unternehmen Berater für die technische, optische und werbliche Optimierung von Webauftritten. Dabei entwickelt er insbesondere Konzepte und Maßnahmen für ein erfolgreiches Absatzmarketing.
Do you have any questions or would you like a personal consultation?
Stay up-to-date with our newsletter