The most valuable Pimconaut 2019 works at Blackbit
At this year's Pimcore Inspire Conference in Salzburg, our developer Jan Walther was awarded Most Valuable Pimconaut of the Year 2019. This honours him for his special commitment to the Pimcore community:Of the more than 200 developers who already regularly contribute to the open source project, Jan Walther has made the most and most influential GitHub contributions to Pimcore.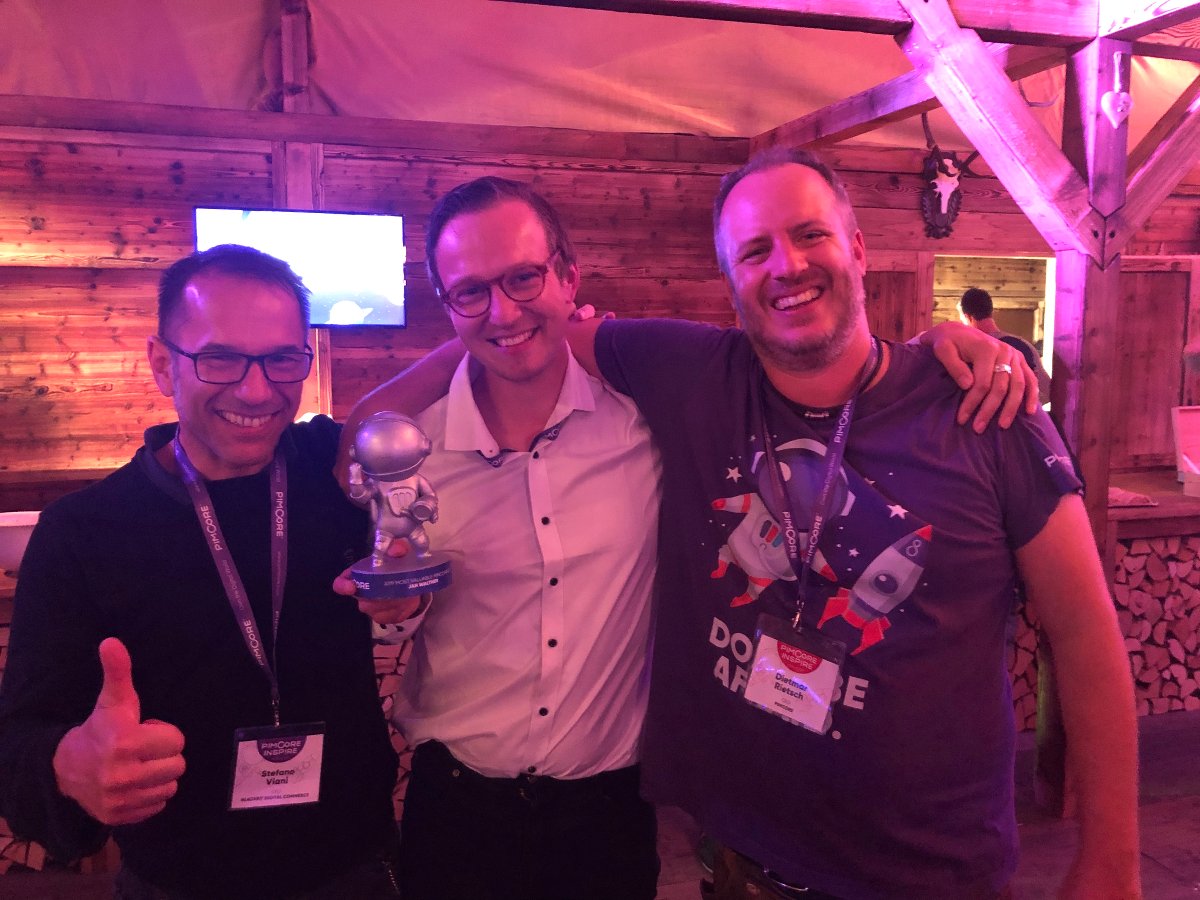 "Blackbit is the most exemplary agency when it comes to collaboration on GitHub," Bernhard Rusch (CTO of Pimcore and main responsible for the Pimcore GitHub repository) praised us. Among other things, it was appreciated that we submit core changes via pull request and ensure updateable, reusable, scalable solutions.
In an interview with Pimcore, our award-winning developer reveals how great commitment to the open source community and everyday agency life go together.
What's new at Pimcore?
At the Partner Conference, we naturally also found out about the latest developments at Pimcore. Here is an overview of the most important news:
The Data Hub plugin grows
Pimcore is currently working massively on its Data Hub plugin. With this plugin, you can create (GraphQL) APIs via GUI without writing a line of code. At the moment, this is only possible for data objects data, soon also for documents and assets. The backend effort for API-based applications such as single-page apps (VueJs, React etc.) but also for imports and exports from and to other systems can thus be reduced enormously. More information about the Data Hub can be found in this Pimcore blog post.
More artificial intelligence in Pimcore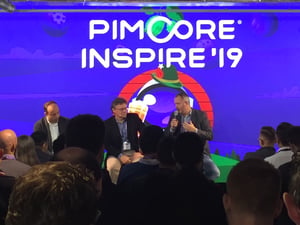 In the medium term, artificial intelligence is to find its way into Pimcore. There is huge potential here: planned functions include optimal pricing of products, automatic text generation or tips for improving the quality of object data. A first feature for automatic tagging of images based on other already tagged images has already been implemented.
The Pimcore roadmap also includes improving cloud compatibility, writing automated tests and integrating translation providers.
Companies are increasingly investing in the integration of digital experience platforms with other systems
Analysts from Gardner and Forrester spoke at the Pimcore Partner Conference about current trends and developments in the areas of Master Data Management (MDM), Product Information Management (PIM) and Data Experience Platform (DXP). In her opinion, 85% of all investments in DXP projects will flow into integrations with other systems from around 2021. About 90% of large companies will then be dependent on system integrators (agencies).

Supporting agencies must therefore offer feature-rich, reusable solutions in order to implement the customers' requirements. Blackbit is already very well positioned here with the import bundle: "Due to changing and growing customer requirements, we have constantly developed our plugin for data import in Pimcore over the past years. This has resulted in a powerful tool that allows high-performance, automated imports, can be individually adapted to data sources and the respective Pimcore data model and minimises the programming effort.