At this year's OMR Festival, Stefano Viani and Michael Arndt will talk about the technological change in B2B e-commerce - key words being retooling, B2B e-commerce and headless technology.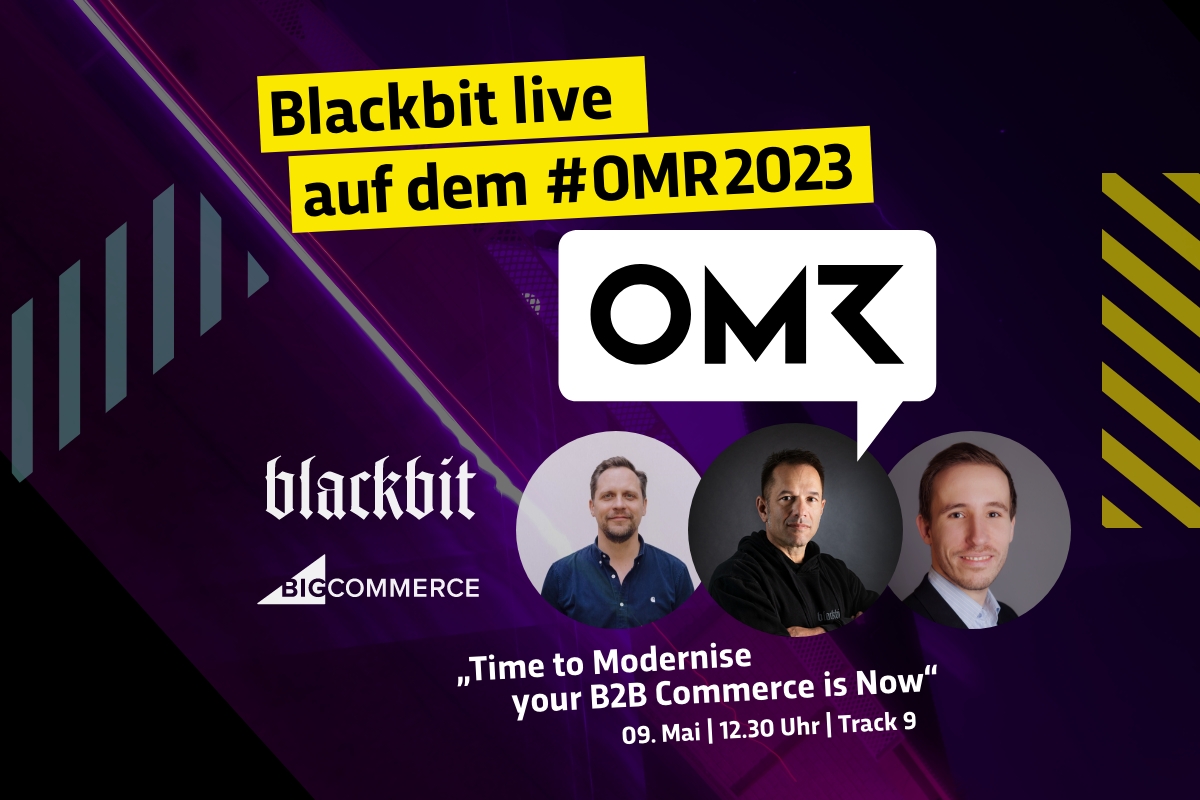 Michael Arndt, Country Sales Lead DACH at BigCommerce and Stefano Viani, CEO and founder of Blackbit digital Commerce, have teamed up for a talk to shine a spotlight on the future of e-commerce. While BigCommerce primarily contributes the perspective of the technology provider and explains the advantages of its own technology in detail, Stefano Viani will contribute practical aspects of implementation using the example of the successful relaunch of Expresso. What does the move to an Open Software-as-a-Service (SaaS) e-commerce architecture mean for B2B companies in practice?
Open SaaS: Equipped for a new digital era
The speaker team explains the special requirements of B2B companies in e-commerce and builds a bridge to the future of e-commerce. This leads away from inflexible, monolithic e-commerce structures via Open SaaS to headless and composable commerce - this technology change is called "retooling". Composable Commerce, in conjunction with the new API-based headless technology, promises faster growth, greater flexibility in the adaptation of digital innovations with simultaneously higher security standards as well as improved user experiences.
About BigCommerce
The American SaaS e-commerce platform, enables merchants of all sizes to build, innovate and grow their business online. As a flexible open SaaS solution, BigCommerce provides merchants with thoughtful features, customisation options and enterprise-grade performance that is simple and easy to use. Tens of thousands of B2B and B2C companies in 150 countries and numerous industries already use BigCommerce to create engaging online shops - including prestigious brands such as Ben & Jerry's, Molton Brown, S.C. Johnson, Skullcandy, Sony and Vodafone.
As the first certified BigCommerce Preferred Partner in the DACH region, Blackbit has already been significantly involved in various projects based on the new technologies and is currently supporting several B2B customers on their way to headless e-commerce.
Join us for a look at new technologies & current trends
If you are interested in a detailed look at current market trends in e-commerce and successful headless projects, visit our Masterclass on 9 May from 12:30 pm.
We look forward to seeing you!
Stefano Viani is the managing director of Blackbit digital Commerce GmbH He is always up to date with the latest developments and trends in e-commerce and digital marketing. For decades he has been a consultant for large and medium-sized companies for the technical, visual and advertising optimisation of websites. In particular, he develops concepts and measures for successful sales marketing.
Do you have any questions or would you like a personal consultation?
Stay up-to-date with our newsletter