Backend developer Arian lives by the motto 'If you believe in yourself, nothing is impossible'. In the interview, our ambitious one reveals more about himself.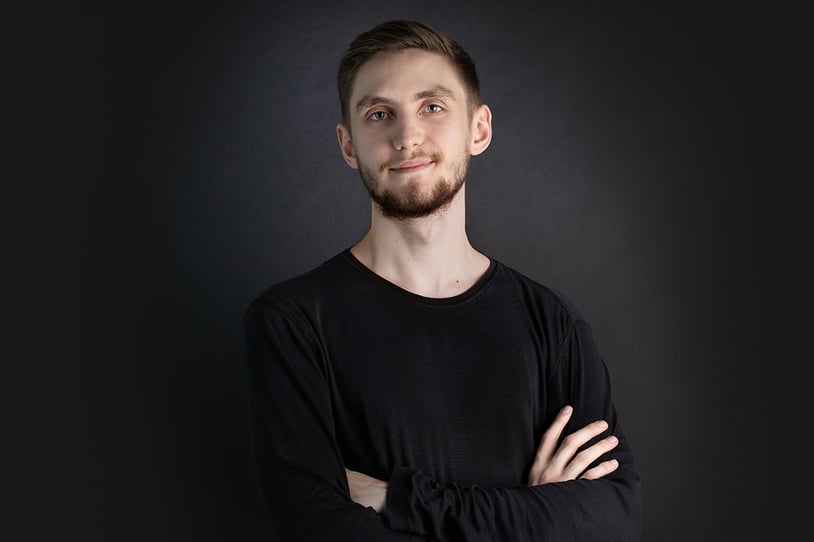 Hello Arian! Nice of you to take the time for our interview. You've been with Blackbit since mid-October last year, have you arrived well? And tell us right away: What do you do with us?
Hi and thank you! Yes, I have arrived well. I always like to describe the core of my job as "thoughtful programming" combined with clever time management. The rest is made up of a healthy meeting culture. Because only when we know exactly who is helping where, can we as a team deliver the level of efficiency and quality that we strive for.
My biggest challenge is always to understand exactly what our customers want and then to code as efficiently as possible. 😊
What programmes do you use to do these tasks?
With PhpStorm - in my opinion the best IDE for my use cases - and Chrome, which is simply indispensable for web development.
How did you find Blackbit?
I looked around the local chat app Yodel for agencies looking for backend developers - and quickly came across Blackbit.
What education do you have and what professional experience did you have before you joined us?
I did an apprenticeship as an electronics technician for devices and systems, where I programmed very close to the hardware. Then I followed up with a bachelor's degree in digital management, where I learned how to do scientific work, among other things - even though I didn't finish the degree. Instead, I gained a lot of professional experience in five years of self-employment as a developer.
What distinguishes you - personally and in your job?
My stamina. When I want to achieve something, I pursue the goal with great ambition. I believe that nothing is impossible, you just have to find the right answer to a problem.
Is your job more of a science or an art in your eyes?
Definitely a science!
What personal things do we find on your desk?
None: The most personal thing on my desk are probably my business cards.
And when you're not at your desk? What are you doing then?
Standing at my desk! 😜 All joking aside, I like to do sports and go shooting. However, I also do a lot of programming in my spare time.
What does your perfect Sunday look like? Does it include a bit of programming?
No, but I just can't get away from the computer completely. I chill out a bit and read, go for a walk and gamble a bit. That's about it.
All right, then we thank you for the interview and wish you continued fun and success with Blackbit!
Stefano Viani ist Geschäftsführer von Blackbit digital Commerce GmbH. Er ist immer up to date, was neueste Entwicklungen und Trends im E-Commerce und digitalen Marketing angeht. Seit Jahrzehnten ist er für große und mittelständische Unternehmen Berater für die technische, optische und werbliche Optimierung von Webauftritten. Dabei entwickelt er insbesondere Konzepte und Maßnahmen für ein erfolgreiches Absatzmarketing.
Do you have any questions or would you like a personal consultation?
Stay up-to-date with our newsletter