A clear recommendation from users for users: Pimcore has received the Customers' Choice Award 2021 for Master Data Management (MDM) solutions.
According to Pimcore, the most significant award in its own history is celebrated accordingly by the developer community of the open source platform. But what do we actually understand by the term MDM? What do companies use it for? What is the "Voice of the Customer" and what exactly does the award actually say?
What are master data management solutions?
Master data management (MDM) solutions are software products for companies that bundle central data processing functions. In this way, several functions can be handled efficiently with one tool. Because they enable:
Globally identify, link and synchronize master data across disparate data sources through reconciliation.
They create and manage a central system of record for master data.
They enable the provision of a trusted data foundation of one or more business units to support various business initiatives.
They support master data management through workflow-based monitoring and corrective actions.
They are compatible with all business applications with which they are shared.
They can be implemented by end-user organizations such as enterprises or NGOs without the need to involve a subject matter expert.
MDMs thus enable companies to synchronize, process and distribute data of various types globally, so that they can deal with data more efficiently in all areas of the business. What is particularly important here is the high degree of independence, as companies do not need any specialist personnel to operate the system. After training, internal employees can perform data maintenance independently. Compatibility with existing solutions eliminates technical and organizational problems that could arise from a complete system changeover. Solutions already in use in companies can easily be integrated into Pimcore in order to have all data converge at one point.
Who awards the prize? Gartner Peer Insights
The prize is awarded by Gartner's Peer Insights evaluation platform, where commercial users can give their feedback on various software solutions. Companies looking for the right solution to meet their business needs will find a network that provides them with relevant information, testimonials and ratings for individual IT solutions. Companies can thus benefit from the experiences of others and help each other choose a suitable solution.
The Voice of the Customer
The Voice of the Customer is a document that aggregates Gartner Peer Insights ratings into actionable insights for IT decision makers. This aggregated user group perspective, along with detailed individual ratings, is an important complement to Gartner's expert research. It can play an important role in data management system decisions by focusing on users' direct experiences implementing and operating a solution. The document only lists vendors with 20 or more qualified published reviews on Gartner Peer Insights within the specified 18-month submission period. Reviews from users in organizations with less than $50 million in revenue are excluded from participation. Methodological details of the survey can be found here.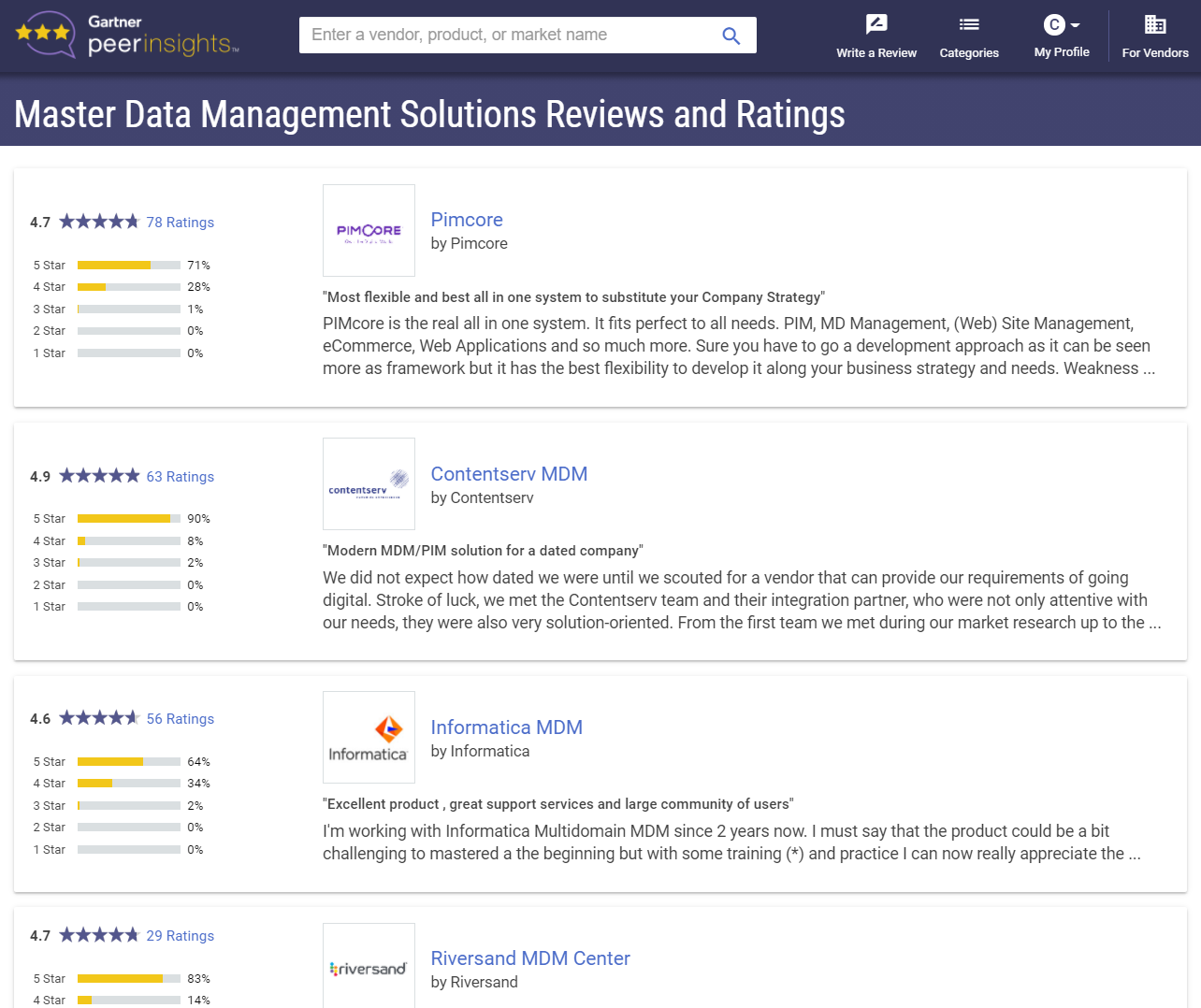 In the MDM solutions market, Gartner Peer Insights published 996 reviews and ratings in the 18-month period ending April 30, 2021, with 78 ratings at an average of 4.7 stars. This clearly sets Pimcore apart as an MDM solution and is clearly Choice of the Customer.
Simplify your data management
We would be happy to discuss with you personally what the award-winning data management solution can do for your company, where the challenges lie and what new opportunities it offers. Contact David Gottschalk directly to learn about your options with Pimcore.
Stefano Viani ist Geschäftsführer von Blackbit digital Commerce GmbH. Er ist immer up to date, was neueste Entwicklungen und Trends im E-Commerce und digitalen Marketing angeht. Seit Jahrzehnten ist er für große und mittelständische Unternehmen Berater für die technische, optische und werbliche Optimierung von Webauftritten. Dabei entwickelt er insbesondere Konzepte und Maßnahmen für ein erfolgreiches Absatzmarketing.
Do you have any questions or would you like a personal consultation?
Stay up-to-date with our newsletter