'Viva la Vita' is his motto. In this interview, our new Frontend Developer Patrick reveals his goals in life and what his perfect day at the agency looks like.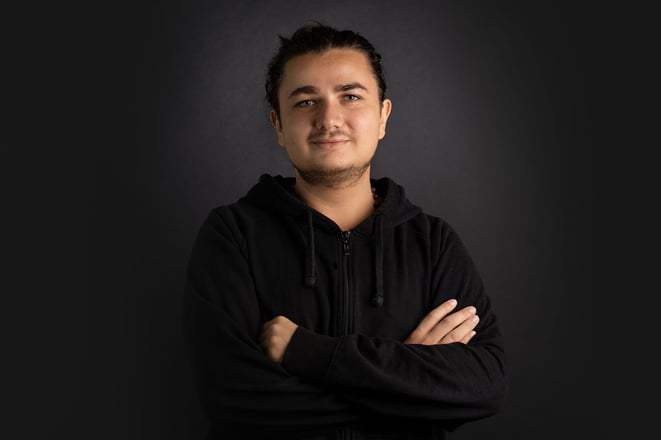 Hi Patrick! Welcome to Blackbit and to our Berlin team. For those who don't know you yet: Who are you and what do you do at Blackbit?
Hi! I'm Patrick and as a frontend developer I'm primarily concerned with the user experience of websites. From the look and feel of a site to the finished online shop, from the concept to the practical implementation.
As a computer scientist, you can almost choose where you work. Why did you decide to work in an agency?
After completing my degree, I'm particularly looking forward to immersing myself in the practical side of things in a professional environment and learning lots of new things. The different specialisations and characters you meet in an agency are particularly interesting. That broadens your own horizons.
I found Blackbit quite simply via Google when I was looking for an interesting job.
Did you have any previous professional experience?
After my training in interactive media, which you can think of as a mixture of art and computer science, I gained a lot of useful experience in an internship as a documentary filmmaker and from my time as a freelancer in motion design and front-end development.
And which programmes do you prefer to use for your job and why?
Quite simply: For animations, I use After Effects and PhpStorm for programming the frontend, Docker for the backend and Adobe XD for collaborating with the UI/UX designers.
And on your desk? Does it look as organised there?
Basically, yes: my notebook plus pencil, a cup of coffee and my MacBook - that's all I need to work.
What other qualities characterise you?
I am inquisitive, always open to new things and always remain relaxed. Like a surfer waiting for the right wave. I bring a lot of patience and attention to detail to my work.
What does the perfect day at the office look like for you? Do you need a certain amount of tension and tough deadlines or do you take a more relaxed approach?
It all starts with good coffee. It's the basis for a successful start to the day. Over lunch with my colleagues, I enjoy discussing various projects, but also chatting about topics outside of work. Of course, the perfect day is crowned by an early finish. Then I still have enough time for an intensive yoga session.
Yoga - is that also your favourite way to get back in a good mood when things aren't going so well?
Absolutely. Yoga also helps prevent bad moods. Being mentally centred and grounded simply helps immensely in a fast-paced everyday life. And it also keeps me physically fit.
What do you like to do when you're not at your desk?
I love travelling around Berlin. There's simply something new to discover here every day - and lots of old things anyway. It's all exciting!
Away from work, I also enjoy programming and experimenting with neural networks in Python and reading books on neurology and psychology.
And what are your big goals in life? What's on your bucket list?
One big goal is to experience the Northern Lights live in Norway. I also want to live by the sea one day.
So that you can realise your goals as successfully as possible: What advice would you give your 15-year-old self?
Do your thing!
That's the ideal final word! Thank you for your time and we look forward to a relaxed collaboration with you.
Stefano Viani is the managing director of Blackbit digital Commerce GmbH He is always up to date with the latest developments and trends in e-commerce and digital marketing. For decades he has been a consultant for large and medium-sized companies for the technical, visual and advertising optimisation of websites. In particular, he develops concepts and measures for successful sales marketing.
Do you have any questions or would you like a personal consultation?
Stay up-to-date with our newsletter