A fresh breeze in the Hamburg office
Corona crisis? No reason for us to bury our heads in the sand. It would be even nicer if we were intimidated by it. Right now, we are stepping up our game: Our agency in Hamburg has had an offspring! Finally, the northerners have a trainee in their team. It's about time, after the Göttingen team made a good showing last year.
At the beginning of July Luisa Igney joined the Blackbits - again! A previous internship seems to have left a positive impression on her as well - she is not the first to return after an internship. This, of course, has long been noted as a great compliment in our secret diary! But back to Luisa: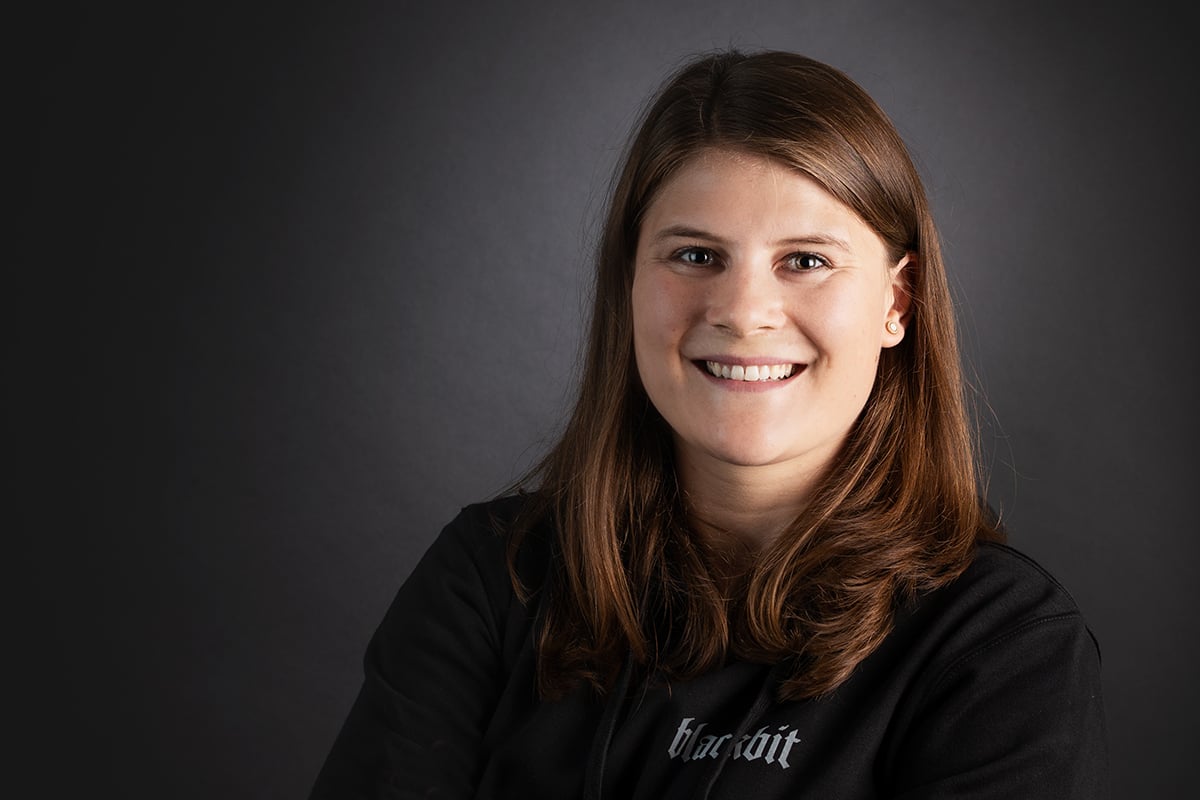 The media cultural studies graduate, who spent her time studying in beautiful Freiburg, is making her first full-time professional appearance with us as a trainee in copywriting and conception.
Luisa has used her time as a student to gain a wide variety of experience in different areas to find her way: whether internships in the media sector, jobs in cultural institutions, as a student assistant at university or a freelance job - the range is wide. For us, this is exactly the right basis for a successful start in agency life: After all, the impressions gained enrich the creative process immensely.
As a native of the Harz region, her path originally led her straight to our Göttingen office. But after graduating, she didn't go back home, but to beautiful Hamburg. And if she should ever miss the proximity to the low mountain range, there will always be a chair free for her in Göttingen. With her creative spirit of discovery, however, she will surely quickly find ways to quench her mountain pangs until her next visit home. We wish her well, because a copywriter with a focused vision and a love of new ways of thinking now completes the Hamburg office.
And what does Luisa do in her spare time? Don't you work 24/7 in an agency? There may certainly be, but it's not healthy. In any case, it's very important to us to have a pleasant balance to the demanding job, and that's why it's an integral part of our corporate culture. This ensures that we will be able to experience Luisa on skis, on her bike or on foot in the future as well. Her motto: The main thing is to be on the move and preferably outdoors! Her passion for travel and her fascination for foreign cultures are very much in line with her love of languages - and with us, of course. And when there's no action, where do you go? Exactly: to the family in the Harz mountains. This is still the best place to relax.
Luisa, whether in Hamburg or Göttingen, the main thing is that you're on board and ready for the adventures ahead!
Stefano Viani ist Geschäftsführer von Blackbit digital Commerce GmbH. Er ist immer up to date, was neueste Entwicklungen und Trends im E-Commerce und digitalen Marketing angeht. Seit Jahrzehnten ist er für große und mittelständische Unternehmen Berater für die technische, optische und werbliche Optimierung von Webauftritten. Dabei entwickelt er insbesondere Konzepte und Maßnahmen für ein erfolgreiches Absatzmarketing.
Do you have any questions or would you like a personal consultation?
Stay up-to-date with our newsletter