"In summer you do well and in winter it hurts [...]". And although summer is already over, the Blackbits dared to make Berlin unsafe in winter. After an entertaining bus or train ride and lunch together, the Blackbit team tried not to let the Berlin traffic get out of hand: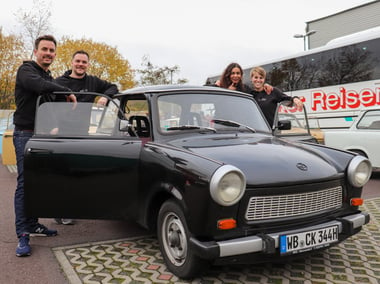 Just in time for the evening rush hour, we took off in numerous Trabants to make the capital city unsafe and to marvel at as many of the city's sights as possible. Well, as many as possible, because during such an exciting ride in a "racing car" you are first busy with other things than looking out of the side window and enjoying the tour: The classic car offers a special driving experience and the column of our Trabis should be respected. While we listened to the guide driving ahead, the GDR cult car should not drown when starting up, gas, clutch and manual shifting should become a routine, the colleagues should be amused and incidentally photos and videos should be taken. By now, at the latest, all Blackbits are conditioned to do four things at once. Despite the handling of the Trabi, which took some getting used to for us, we were able to enjoy the view of the Brandenburg Gate, the TV Tower and remnants of the Berlin Wall during the ride.
After the exciting two-and-a-half-hour tour, we checked into the Hüttenpalast - an indoor campground with historic caravans in old industrial halls - and then toured the Berlin office together.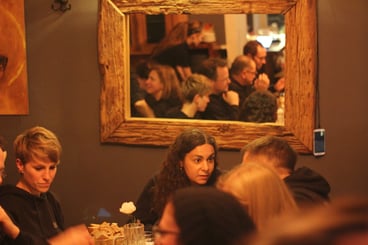 To fortify ourselves properly, we then stopped at the "Schwarze Heidi", who treated us to cheese fondue, Geschnetzelte and Röstis. The eventful day came to a fitting end with a few beers in the courtyard of the Hüttenpalast.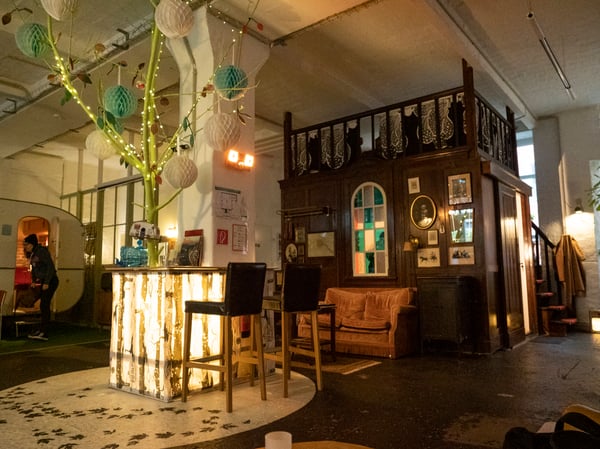 Stefano Viani ist Geschäftsführer von Blackbit digital Commerce GmbH. Er ist immer up to date, was neueste Entwicklungen und Trends im E-Commerce und digitalen Marketing angeht. Seit Jahrzehnten ist er für große und mittelständische Unternehmen Berater für die technische, optische und werbliche Optimierung von Webauftritten. Dabei entwickelt er insbesondere Konzepte und Maßnahmen für ein erfolgreiches Absatzmarketing.
Do you have any questions or would you like a personal consultation?
Stay up-to-date with our newsletter