Reduce running costs and optimise shop performance at the same time with a future-proof technology such as that from Blackbit partner BigCommerce? Blackbit carried out the migration and relaunch for duschenmarkt.de.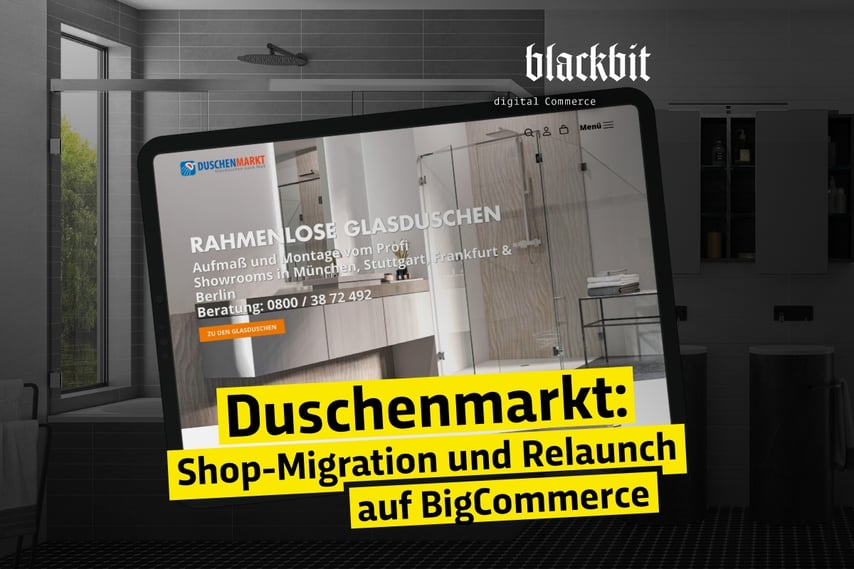 The recurring updating and ongoing maintenance of on-premise e-commerce applications is a thorn in the side of many shop operators. It's not just about the costs. Each update ties up capacity and attention, even if the agency does most of the work. As a result, updates are skipped again and again until several smaller updates have become a comprehensive project and the shop operator asks himself whether it would not make sense to change the shop software.
Case study: Shower market: Shop migration and relaunch on BigCommerce
Blackbit used BigCommerce to migrate the shop http://www.duschenmarkt/.de to a future-proof cloud software (SaaS). In this way, operating costs could be reduced and page loading times optimised at the same time. The design of the online shop was also updated on this occasion.
Conclusion: When is it worth changing shop software?
Migrating a shop to the e-commerce platform of another provider is an interesting option when the costs for an update are comparable to the costs for a change of platform. This is especially the case when a product line has reached the end of its product life (Shopware 5 to Shopware 6). Then, in most cases, an update is no longer possible, but the data must be migrated to the new product and the templates for the shop must be reprogrammed.
Our tip: The shop system change as an opportunity for improvement
Take enough time to choose your new e-commerce platform. Depending on the chosen platform, a migration of data is uneconomical in some cases and it makes sense to pursue a so-called "greenfield strategy", i.e. to make a completely new start on a new system.
If you choose a new platform, then you also think in a new way and say goodbye to doing everything as before. Because a new platform enables new, more modern and, for the most part, more efficient approaches, even if you have to drop one or two cherished functions. In the end, it's the costs and the overall performance of your shop that count.
Do you want to switch to a new technology?
Are you considering changing your e-commerce software? We would be happy to advise you on choosing a new, future-proof e-commerce solution.
Contact us now
Stefano Viani ist Geschäftsführer von Blackbit digital Commerce GmbH. Er ist immer up to date, was neueste Entwicklungen und Trends im E-Commerce und digitalen Marketing angeht. Seit Jahrzehnten ist er für große und mittelständische Unternehmen Berater für die technische, optische und werbliche Optimierung von Webauftritten. Dabei entwickelt er insbesondere Konzepte und Maßnahmen für ein erfolgreiches Absatzmarketing.
Do you have any questions or would you like a personal consultation?
Stay up-to-date with our newsletter