With Pimcore and xt:Commerce to an appealing e-commerce platform
The bicycle and fitness retailer Fitstore24 operates a stationary trade as well as an online store with an extensive range of bicycles and accessories as well as other articles related to fitness.
Apart from uncomplicated management of its data, Fitstore24 wanted a new version of its store system in a contemporary, modern design with effortless operation of the online store.
A mobile optimization of the store should guarantee customers an appealing shopping experience on their mobile devices as well.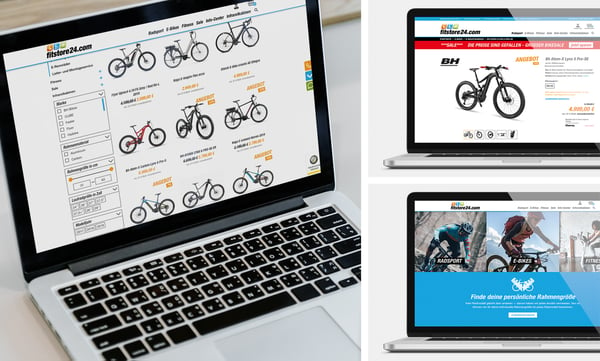 To meet these requirements, we equipped Fitstore24 with the PIM system Pimcore. Data from the merchandise management system is now imported into Pimcore and then fed into the new xt:Commerce store we set up.
Thanks to PIM system with speed to simple data management
As the digital commerce agency in charge, we set up a PIM system, the flexible open source framework Pimcore, for the sports retailer to simplify the management of its data. Data imported from the merchandise management system into Pimcore can now be maintained and exported with ease. Additionally, the web-based platform can be conveniently operated from anywhere.
The powerful PIM system facilitates the structured maintenance of product information, as all information is maintained in just one place, consequently eliminating the need for time-consuming manual entry of individual data. The edited data is automatically transferred from the PIM system to the store system and to the xt:Commerce content manager.
Playing by different rules with the BB product filter
On the online platform, we have built in a filter navigation for Fitstore24: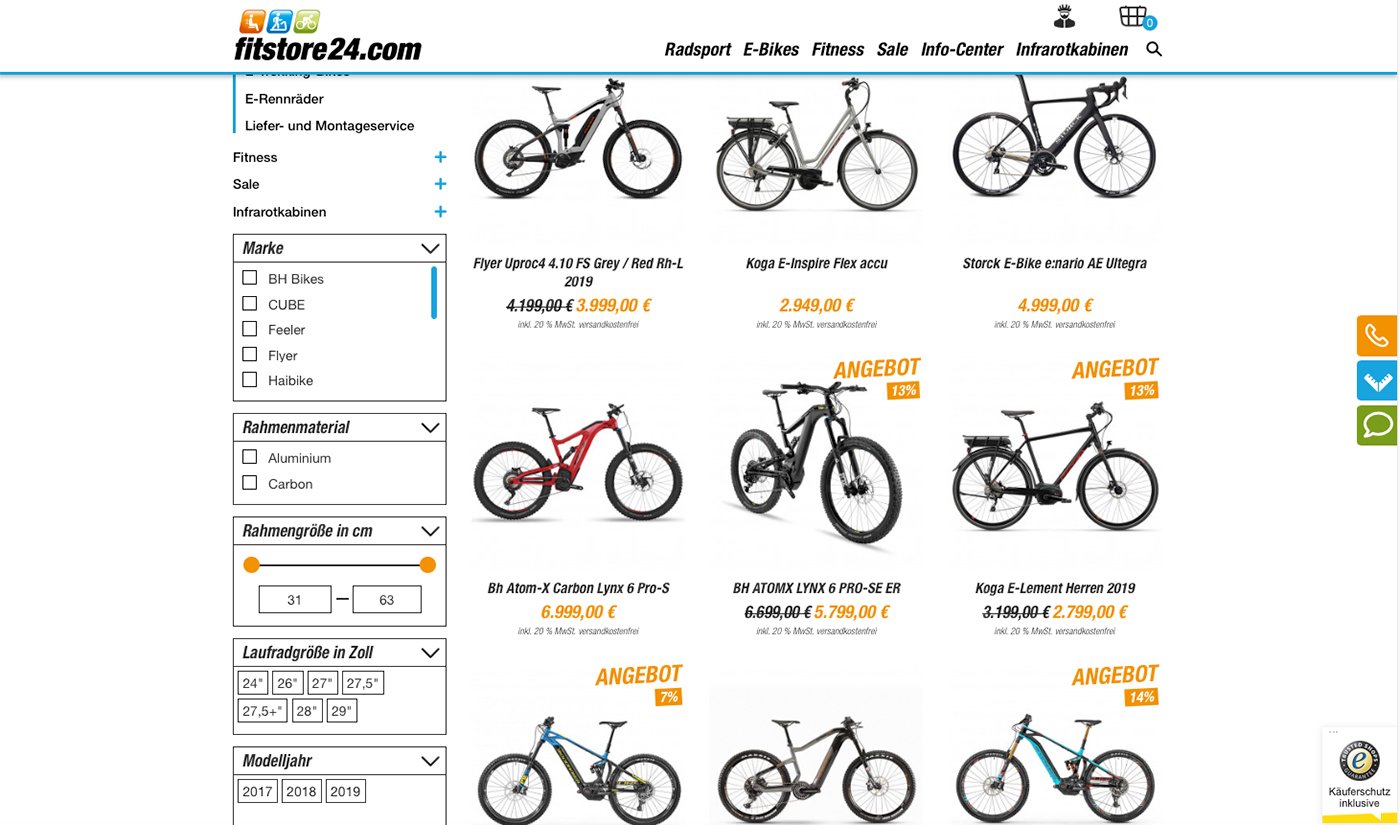 With our xt:Commerce Plugin - BB Product Filter, we equipped the store with useful filter functions. Among other things, users can narrow down the product variety to the items that are relevant to them. When searching for the right bike, the interested party can now filter the comprehensive offer quite comfortably, for example, by brand or frame size. The user decides whether to select only individual filter criteria or to combine several; as a result, options that do not apply are hidden. The parameters of the BB product filter can be customized according to the requirements of an online store.
With the newly added frame configurator, the online store offers its visitors a tool that determines the individual frame size for the respective prospective customer by specifying the stride length and consequently displays the suitable bikes.
Another special feature of the website is the Infocenter: There, store visitors interested in sports will find blog entries on the topic of cycling, e-bike and fitness advice.
In order to be able to use all of the above-mentioned functions on different devices, we created an appealing design for the online store that also works on mobile devices and invites the store visitor to make a purchase directly after a workout.
Now make the presentation of your website even more user-friendly with our plugin!
Benefit from our plugin and learn how to use product filters effectively here: