xt:Commerce 6 FREE is here: What you need to know about the free store software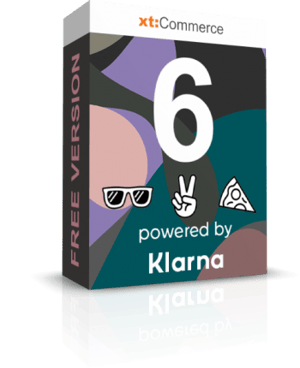 xt:Commerce 6 FREE was recently released and is available for free download on the manufacturer's website. The new store version was developed in close cooperation with payment service provider Klarna and offers numerous features for conversion optimization. Like the previous version, xt:Commerce 6 is also optimized for search engines and, thanks to Responsive Design, ensures an attractive store presence and a user-friendly shopping experience even on mobile devices.
The most important xt:Commerce 6 innovations at a glance
The proven features from xt:Commerce 5.1 (e.g. the modules for creating vouchers and PDF invoices and for processing orders) are also included in xt:Commerce 6. In addition, there are some new features:
1-step checkout for faster purchase completions.
The completely new checkout process was integrated in cooperation with Klarna. Customers can now submit their orders much easier and faster. Abandoned purchases, which are often due to a checkout that is too cumbersome, are thus reduced.
New user-friendly admin layout
The administration area has undergone a redesign. The new user interface is designed similarly to common Windows applications, making it quick to understand and easy to use. The admin area allows you to keep track of all operations and monitor all actions - for example, the performance of your store.
Open source code
With xt:Commerce 6, the developers have for the first time dispensed with encryption. The software is available with completely open source code and no longer requires an IonCube Loader. This means that you as a merchant can optimally adapt the software to your needs and extend it as you wish with individual interfaces.
xt:Commerce 6 FREE payment methods are not extensible
In xt:Commerce 6 some popular payment options are already pre-installed:
Klarna Checkout (credit card, installment purchase, invoice, direct debit).
PayPal
Sofortüberweisung
Since the free store version is "powert by Klarna", a Klarna account is required to activate all payment methods, additional payment methods cannot be set up.
For whom is xt:Commerce 6 not suitable?
Those who want to offer special payment methods - for which no Klarna account is required - should stay with the latest xt:Commerce 5.1 version. Klarna is not pre-installed here. Instead, PayPal Express/PayPal Plus, Skrill and Amazon Pay are already integrated in addition to PayPal, Invoice/Prepay, Direct Debit and Sofortüberweisung - further payment methods can be purchased via the App Store.
For operators of multiple stores, an xt:Commerce 6 installation is also not recommended. This is because only a single store can be managed via xt:Commerce 6, while xt:Commerce 5.1 offers multishop functionalities (for 1-30 stores).
By the way, as an xt:Commerce 5.1 store owner, you can also benefit from the newly developed functions in a timely manner: Currently, the xt:Commerce developers are working on the update scripts, with which older store versions can be extended with the new features of the 6 version.
xt:Commerce 6 for free download
The new store version xt:Commerce 6 FREE sounds like an exciting solution for your store? Find out more here and download the software for free from the manufacturer's website: