Human resources is more strongly influenced by people than any other area of a company. What added value can emotionless artificial intelligence provide here? Hamburg@work provides answers.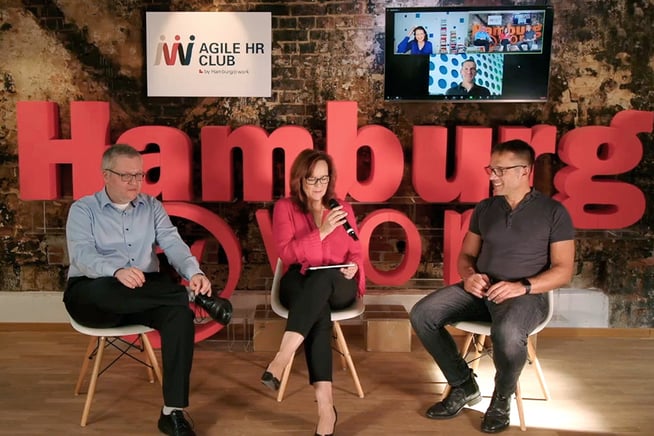 Hamburg@work's Agile HR Club is dedicated to modern, technology-supported HR work. The talk is interesting for all those with HR responsibility, as well as for managers and employees who want to take advantage of the opportunities offered by AI in good time.
Human vs. machine?
Cool decisions blind to human concerns, or simply efficient, data-driven HR management? A company stands or falls on successful human resource management. The right decisions can make a big difference, the consequences of wrong decisions are almost impossible to assess. From recruiting and onboarding to salary or dismissal decisions, to payroll and the management of sensitive data - all these areas are resource-intensive. SMBs in particular often lack the capacity to do it all on their own. But technology-based solutions promise help. Today, various software solutions are capable of independently handling individual tasks or sub-processes in the area of HR with the help of AI.
Experts, opinions and experiences
In the current Hamburg@work videocast, experts from business, science and research discuss the current state of research, share their experiences and report on the status quo in their companies - including Blackbit's CEO Stefano Viani. The discussion round provides valuable impulses for the successful and efficient use of AI-based solutions in human resource management. Click here for the videocast.
Stefano Viani ist Geschäftsführer von Blackbit digital Commerce GmbH. Er ist immer up to date, was neueste Entwicklungen und Trends im E-Commerce und digitalen Marketing angeht. Seit Jahrzehnten ist er für große und mittelständische Unternehmen Berater für die technische, optische und werbliche Optimierung von Webauftritten. Dabei entwickelt er insbesondere Konzepte und Maßnahmen für ein erfolgreiches Absatzmarketing.
Do you have any questions or would you like a personal consultation?
Stay up-to-date with our newsletter