Knowledge has the potential to change the world. That is a commonplace. But putting this insight into operational practice, for example in the onboarding of new team members and in customer relations, is anything but easy. Often, nothing remains but good intentions, which remain eternal intentions under economic pressure and day-to-day business. However, we are convinced that economic success and the sharing of knowledge are another step towards the effectiveness and efficiency of our actions - and thus towards economic success.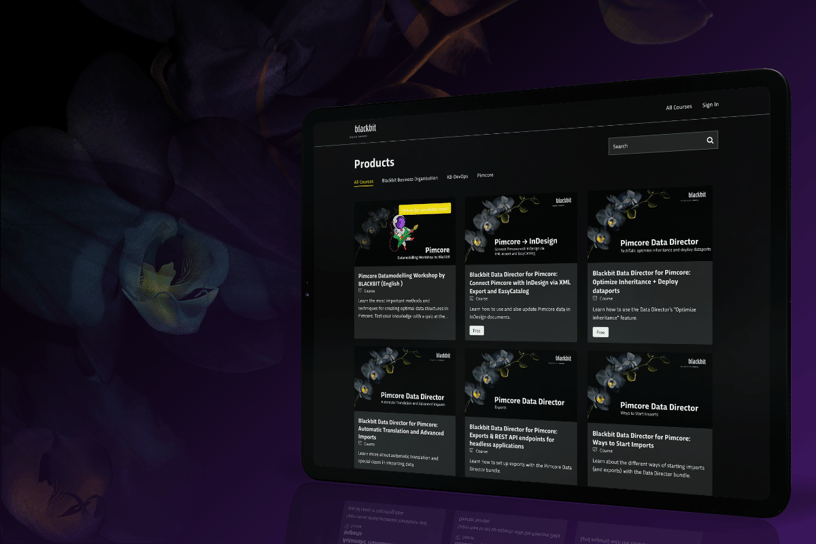 As an agile organisation, we give our employees the freedom to learn, cultivate a healthy culture of mistakes, create spaces for communication and exchange, promote teamwork and transparent processes. We do not sell our customers magical black boxes, but try to inform and explain in our consulting in order to create mutual understanding for requirements and services.
The Blackbit Academy: Knowledge management in everyday agency life

Despite all our practical experience, we know that there is always room for improvement. The dynamic development of our company must therefore not lead us to sacrifice the important to the urgent. That is why we have given the structured collection of knowledge that can be called up at any time a permanent place at Blackbit with the Blackbit Academy:
"Blackbit Academy
A place to learn skills to positively shape the future. Discover leading technologies, learn more about agile business organisation and innovative methods that put people as users, business partners and employees at the centre of everything we do."
At Blackbit, it is part of our self-image to enable our customers to understand and do as many things as possible on their own. As a service provider, we prefer to support our customers with our expertise in special cases and provide them with the resources they need.
Open source and participation as the key
Free and open software therefore has a central place in our services. Pimcore, as the leading open source platform for managing data and user experiences, is the central platform in many of our projects. We are convinced of it ourselves and use it with enthusiasm, because it promotes our customers' understanding of data operations and at the same time enables them to access it.
It is therefore only logical that we have created a no-code or low-code extension with the Data Director to simplify the complex processes of importing, mapping and exporting data to and from Pimcore for our customers - and are now also launching the Blackbit Academy with the Data Director webinars, which have already been published on YouTube.
Data is at the heart of digitalisation
Since aggregating and processing data is at the core of digitisation and new value is created when existing data is put into new contexts, a course on creating data models in Pimcore will follow soon.
A course on container-based development with Kubernetes will emerge from the requirements of the Blackbit developer community. Questions will be asked and answered in the community. Recurring questions converted into learning sections of the course so that new developers can get started quickly.
A course on our agile company organisation is currently being created exclusively for our new Blackbit team members. Participation, responsibility, ownership and the power to successfully complete tasks are what many young people want. We show how success, meaningfulness and profitability can be brought into harmony.
Stefano Viani ist Geschäftsführer von Blackbit digital Commerce GmbH. Er ist immer up to date, was neueste Entwicklungen und Trends im E-Commerce und digitalen Marketing angeht. Seit Jahrzehnten ist er für große und mittelständische Unternehmen Berater für die technische, optische und werbliche Optimierung von Webauftritten. Dabei entwickelt er insbesondere Konzepte und Maßnahmen für ein erfolgreiches Absatzmarketing.
Do you have any questions or would you like a personal consultation?
Stay up-to-date with our newsletter