New year, new trends? Most Corona-related developments in e-commerce are continuing. The impact on the market is becoming more and more evident. This is what 2022 could bring us in e-commerce.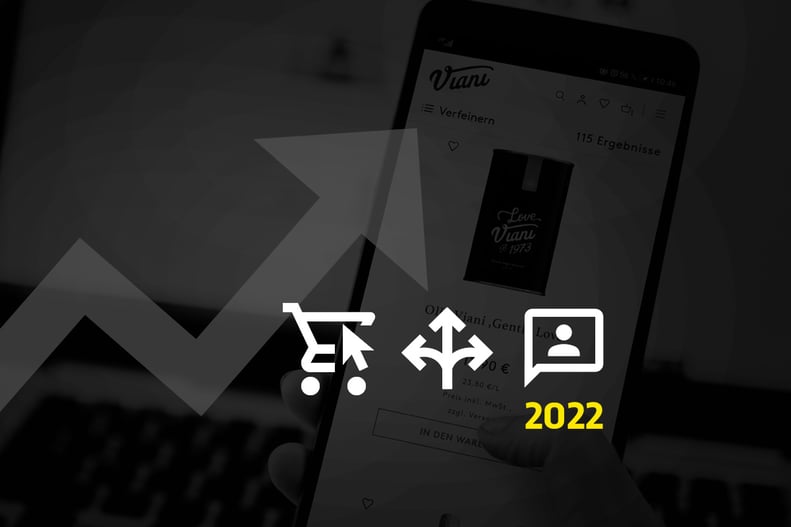 We are starting a new year with a zest for action and are excited to see what we can expect from it. As e-commerce specialists, we naturally already have an idea of where the focus might lie in the further development of the market.


Mobile and Social
Depending on the ongoing trend of mobile shopping and surfing on the go, shopping behavior is also changing: With the increasing use of mobile devices, more and more purchases are shifting to tablets or smartphones. In the process, stores integrated into social media are rapidly gaining in importance. That's why you should urgently check whether the distribution channels playable via Facebook and Instagram could be relevant for your target group. Because then they are for you, too!


Click & Collect
In times of contact restrictions, many consumers have quickly become accustomed to picking up their ready-made purchase virtually on the doorstep of the store. The already established model is becoming more popular and visibly consolidating the fusion of online and offline. Caution: Flawlessly functioning processes are crucial here for customer satisfaction and often depend only on the right technological solution.


Artificial Intelligence
This buzzword unites several trends, some of which are running in parallel and will probably prevail to varying degrees depending on the industry. Whether it is comparatively simple chatbots that provide customers with advice and a service offer at an early stage, voice-controlled voice shopping, or digital shopping trips via 3D models, virtual reality, or augmented reality: the performance of artificial intelligence is becoming a real success factor in the targeted approach and the skillfully individualized resumption of contact with customers.


Headless solutions for multichannel commerce
The development of headless concepts, which decouple front-end and back-end applications that were once firmly connected to each other, allows more and more front-end solutions to be used with one and the same back-end. This minimizes costs, increases reach and sales and, in the best case, opens up new target groups. This is a feature that our Data Director has been offering for quite some time now and that can be optimally used with supported platforms such as BigCommerce or STYLA.


Sustainability and green consumption
Despite the enormous energy costs involved in the logistics of online shopping, consumers are increasingly looking for environmentally friendly shopping options. Reliable labeling of sustainable products, offering a climate-neutral shipping option or donations to charitable organizations integrated into the shopping process can make stores more interesting for customers. Important: Make your company clearly identifiable as a sustainable option for shoppers.
Bottom line: e-commerce '22
Customer satisfaction is still the top priority if you want your online store to run for the long term. First, however, it is necessary to win the trust of new customers - above all by enabling smooth, barrier-free and completely satisfactory shopping.
Here, everything depends on the e-commerce solution that can be flexibly adapted to the wishes and needs of your target group across all shopping channels. At the same time, with the right solution, you can benefit from simplified and bundled internal processes.

2022 will be your year!
Do you want to take off in e-commerce this year or drastically improve your shopping offering? No matter where you want to optimize your processes, we can advise you on all questions relating to strategic alignment and the technical set-up for growth-oriented and successful online shopping. Contact us at any time and together we will implement your goals!
Stefano Viani ist Geschäftsführer von Blackbit digital Commerce GmbH. Er ist immer up to date, was neueste Entwicklungen und Trends im E-Commerce und digitalen Marketing angeht. Seit Jahrzehnten ist er für große und mittelständische Unternehmen Berater für die technische, optische und werbliche Optimierung von Webauftritten. Dabei entwickelt er insbesondere Konzepte und Maßnahmen für ein erfolgreiches Absatzmarketing.
Do you have any questions or would you like a personal consultation?
Stay up-to-date with our newsletter