Marketing Automation & Personalization with Pimcore 5
Marketing automation and a personalized user approach will soon be indispensable in digital commerce. Intelligent personalization tools that identify and address customer preferences are expected to enable digital companies to increase their profits by up to 15% as early as 2020, according to Gartner.
Major vendors such as Adobe, Salesforce and Sitecore have already integrated marketing automation capabilities into their systems. The developers of the digital commerce framework Pimcore 5 have also recognized this trend and have equipped the newly released software version with a user experience management or customer management framework. What is behind this new component of the open source platform, we reveal in this blog entry.
Only open source framework with extensive marketing automation functionality
Pimcore is the only open source experience platform that offers extensive master data management capabilities for customer data and allows detailed personalization as well as diverse marketing automation. Another unique selling point is that Pimcores combines content maintenance, e-commerce, product information management, digital asset management and now customer management in one system. All data relevant to digital commerce can therefore be managed centrally and efficiently via a single user interface and used for smart marketing workflows.
Like Pimcore as a whole, the new Experience Management System is also a framework. This means companies can completely customize the solution to meet their exact needs.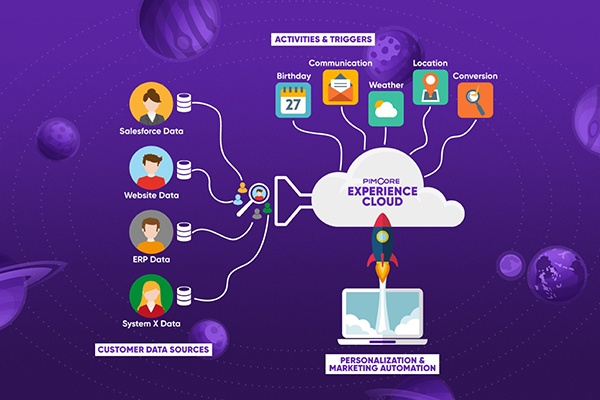 The 3 main features of the Pimcore Customer Management Framework.
The Customer Management Framework is directly integrated into Pimcore 5 and enables companies to offer their B2B and B2C customers a comprehensively personalized user experience. The following components form the basis of the framework:
1. customer data management: Customer data can be collected, enriched and stored directly in Pimcore 5. Any external source, such as ERP systems or Salesforce, can be connected for this purpose.
2. user actions & triggering events: The user data managed in Customer Data Management can be enriched by all user actions (e.g. specific conversions in the store or behavior on the website). Based on the collected data and individually definable events (e.g. birthday, weather, location, last purchased products, etc.), personalized, automated marketing measures (e.g. mail dispatch or optimization of the store checkout) can be triggered. Pimcore 5 can already be seamlesslylinked with MailChimp and the IBM Marketing Cloud and extended with additional interfaces. Thus, user data aggregated in the Pimcore Customer Management Framework and defined events can be used directly for marketing automation and evaluation with the connected tools.
3. customer segmentation: Based on the collected customer data and using defined segmentation rules, users are assigned to the appropriate personas. The Pimcore Customer Management Framework already contains demo rules for this, which can be adapted as desired or replaced by your own segmentation rules.
In this video, Pimcore CEO Dietmar Rietsch presents the core functions and benefits of the new Customer Management Framework:
Pimcore 5 Update:

Benefit from

Marketing Automation and

Personalization

Now.

The new Customer Management Framework is a good reason to switch to Pimcore 5 promptly and benefit from the extensive functionality in the area of marketing automation and personalization before your competitors.Well-known companies such as Burger King, Intersport and Deutsche Bahn are already using the CustomerExperience Platformto address the right people with the right content at the right time.

As a Pimcore Gold Partner, we will be happy to advise you on the use of the new software and provide you with comprehensive support when switching to Pimcore 5.