In today's world, where digitalisation is in full swing, B2B e-commerce has established itself as a crucial factor for business success. While the B2C market is often in the spotlight, the B2B e-commerce market also offers immense opportunities for growth and innovation. An impressive example of this is the relaunch of the Noir Handmade shop based on the BigCommerce B2B Edition.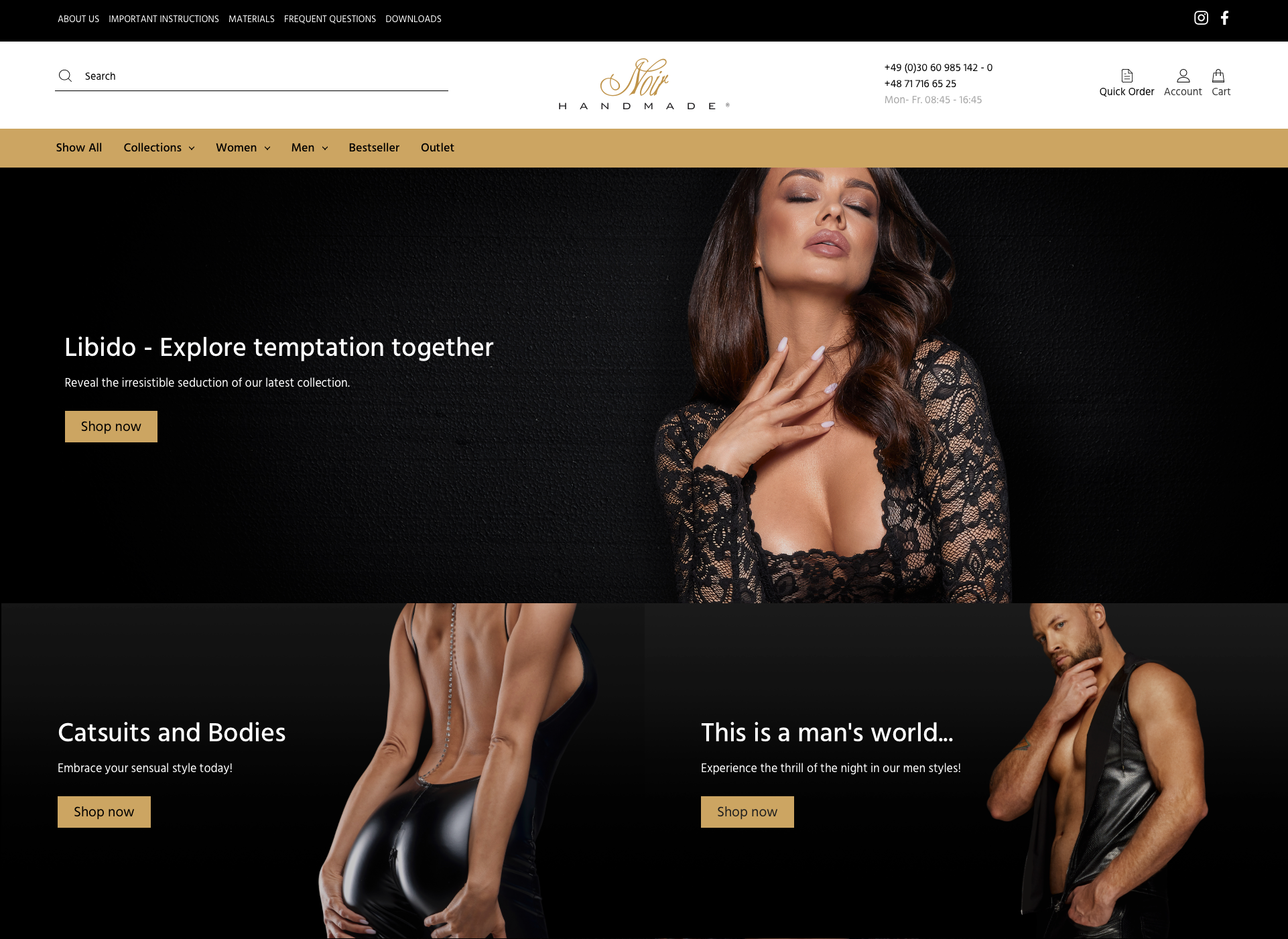 Noir Handmade: An ode to elegance
Founded in 2011 by visionary entrepreneur Roksana Galka, Noir Handmade has become a symbol of sophistication in the world of lingerie. Inspired by the captivating allure of 'film noir', Noir Handmade creates designs that captivate and empower. With a dedicated team of over sixty professionals, the company delivers exquisitely crafted lingerie that goes beyond mere clothing to become a statement of confidence and allure. Noir Handmade believes that luxury should be accessible to all, which is why it has always advocated a fair pricing strategy.
Where elegance meets B2B e-commerce
Noir Handmade, a pioneer in the lingerie industry, recognises that B2B e-commerce is not only a necessity, but also an opportunity to optimise business processes and expand its customer base. With a clear understanding of the specific needs of B2B customers in the textile and fashion industry, Blackbit has created a platform that is both aesthetically pleasing and functionally superior.
BigCommerce B2B Edition:
The Key to B2B E-commerce Success
Noir Handmade chose the BigCommerce B2B Editition for strategic reasons. This is because the platform is known for its customised B2B e-commerce solutions that help businesses strengthen their online presence while increasing customer satisfaction. Some of the standout B2B-specific features include:

Restricted access: an essential B2B e-commerce feature to ensure that only authorised user:s have access to critical business information. For example, no prices are displayed to guests. Even after registration, only the usual retail prices are visible at first. Only after the user account has been activated are wholesale prices displayed on the website and the functions available to professional buyers.
Personalised pricing: A key element in B2B e-commerce to offer different pricing structures for different business customers.
Quantity orders: A must for B2B e-commerce, especially in the fashion industry to manage bulk orders efficiently, is the ability to add different quantities of an item in different sizes to the shopping cart at once. For this, Blackbit has enhanced the product overview pages and the product detail pages.
Image downloads: An efficient system for downloading product images makes marketing and sales easier for B2B customers. A download centre is available for activated users and individual images or image collections of a product can be downloaded from the product detail pages.
Dynamic product descriptions: A customisation that updates product descriptions depending on the selection of the product variant without having to reload the page.
Optimised quick search: a preview of the search result including product image makes the search more efficient and speeds up the ordering process.
Multiple watch lists: recurring orders can be managed using multiple watch lists.
Customer-specific assignment of payment methods: Preferred payment methods of customers can be stored as default settings in the customer account.
B2B e-commerce: the future of online business
With the rapid growth of the digital marketplace, it is imperative for businesses to rethink and optimise their B2B e-commerce strategies. The relaunch of Noir Handmade shows that with the right combination of platform and strategy, B2B e-commerce can be not only functional but also engaging. For companies that want to grow in the B2B segment, it is time to recognise and take advantage of the opportunities that B2B e-commerce offers. It's not just about selling products online, but rather about strengthening business relationships, optimising processes and increasing sales in a more sustainable way.
Blackbit has made numerous other adjustments and optimisations, which cannot all be listed here as they would go beyond the scope of this blog post.
You can therefore find more information on the topic on the website of our E-Commerce Tribes.
Stefano Viani ist Geschäftsführer von Blackbit digital Commerce GmbH. Er ist immer up to date, was neueste Entwicklungen und Trends im E-Commerce und digitalen Marketing angeht. Seit Jahrzehnten ist er für große und mittelständische Unternehmen Berater für die technische, optische und werbliche Optimierung von Webauftritten. Dabei entwickelt er insbesondere Konzepte und Maßnahmen für ein erfolgreiches Absatzmarketing.
Do you have any questions or would you like a personal consultation?
Stay up-to-date with our newsletter