Pimcore Import Bundle becomes Blackbit Data Director
Pimcore is a simple and powerful framework for building digital platforms with an intuitive admin interface. Pimcore plays out a particular strength in the maintenance of structured data. For this reason, Pimcore is often used as a PIM and MDM system in e-commerce.
Pimcore enables our customers to solve many product information management tasks themselves.
It is said that data is the gold of the digital age. To ensure that our customers can also lift this treasure and use it to their advantage, we offer extensive training, work with our customers to create a data model tailored to their individual requirements, and coach them in the daily use of their PIM system. In the past, the independence and flexibility in handling product information desired by our customers usually reached its limits when it came to importing and exporting data. Individual data models do not allow simple standard interfaces and the system's own interfaces are therefore limited in their performance.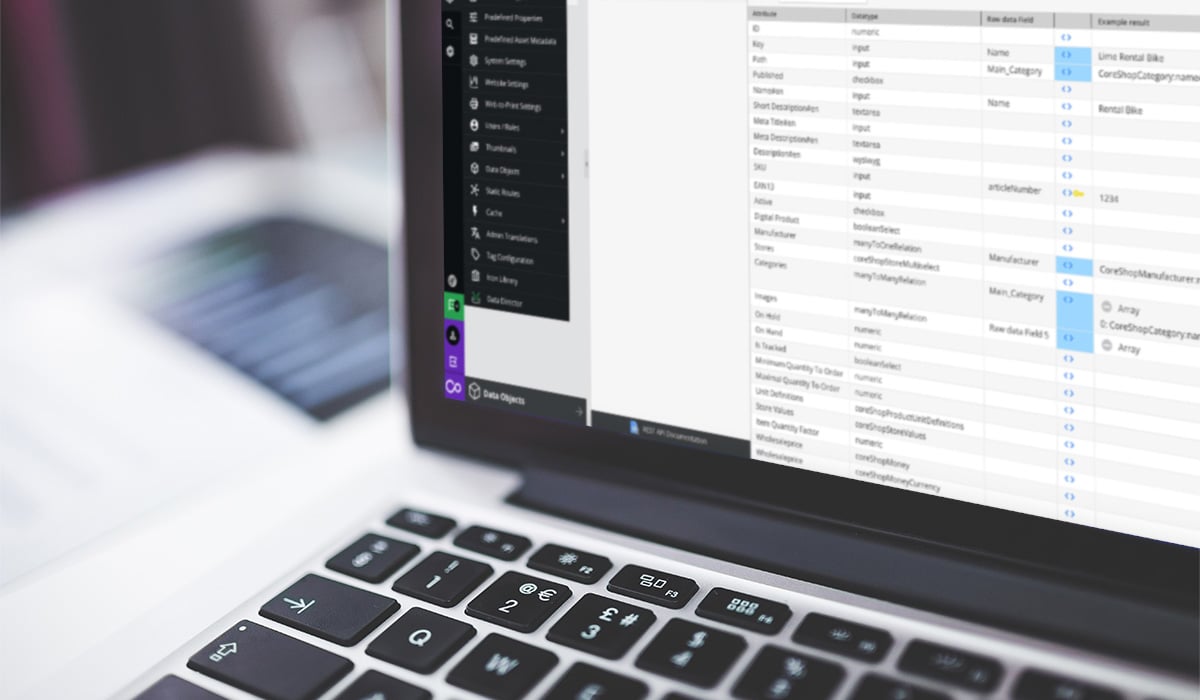 With the Blackbit Data Director, Pimcore now gets an interface for the most common practical applications.
Based on our project experience, we have developed our Pimcore Import Bundle. And since the scope of our Import Bundle has been extended with each project, it is now time to change the name from Import Bundle to Data Director. Because with Data Director it is now possible to import Excel, XML/HTML, CSV and JSON data and export data from Pimcore objects. Importing from Pimcore into Pimcore is also possible - for example, to be able to change data types without losing data. Files and web services can be consumed as the source for the import.
To start the imports and exports, the plugin offers, in addition to manual execution in the Pimcore backend, the possibility to do this via command line commands or via REST API. Automatic importing as soon as a file is loaded into a defined folder or setting up import pipelines is also easy and possible without programming.
How the Data Director works
Importing and exporting data to and from Pimcore is basically a two-step process: First, the data is read from the source into a buffer. This then serves as the basis for the second step, the so-called mapping, in which only the changed data records are imported into the Pimcore objects. In this way, the import is accelerated considerably and it becomes traceable which data was imported from the source. In the second step, it is possible to modify the original data during import into the Pimcore objects. Using scripts in JavaScript and PHP, it is possible to solve even complex tasks with the Data Director. So that our customers do not have to program, the Data Director offers many different templates, e.g. for the creation of relations, the generation of barcodes, the automatic assignment of images to objects or the automatic translation of texts into other languages via DeepL-API. Templates for the connection to Shopware 6, Shopify and various marketplaces are in progress or planned.
Video tutorials show the extensive possibilities of the Data Director.
The bundle is delivered including documentation. However, we know from experience that video tutorials explain even complicated issues more easily than extensive manuals. Therefore, we will show the various configuration possibilities of the Data Director in a video series in the future.
In our first video tutorial we will show how to create and fill objects for manufacturers, categories and products from a CSV file. Here we will also show how to import manufacturer-product relations and how to create the products below the respective main category of the category tree.