The criteria for successful online stores
Store Usability Award 2016 as "Most Innovative Shop" goes to Viani.de
Originality, reliability or attractiveness - what makes a successful online store? Which criteria are important and which technology is necessary if you want to inspire customers and retain them in the long term? Last week, the Shop Usability Award 2016 selected the best online stores in Germany. The viani.de webshop, which we redesigned in collaboration with the brand agency moodley, scored points in the category "Most Innovative Shop".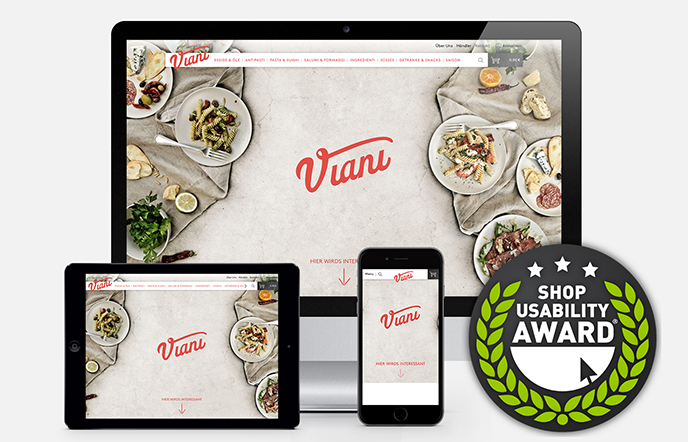 In the laudation it says: "The Viani Shop convinces with a modern, appealing product presentation. Authentic short stories about producers, extensive information about products and recipes offer added value that whets the appetite for Italian cuisine. The intuitive navigation leads the visitor quickly to the desired product and awakens desire."
How innovative online stores score
Pragmatic qualities such as efficiency, transparency and reliability form the basis. Above all, loyalty is important to convince. As a brand, this means taking a very clear stance. A unique, unmistakable positioning creates desire for the products and services. Stories create a myth around the brand, making it a likeable companion. Originality is therefore particularly important in storytelling and design in order to stand out from the mass of similar offerings.
With the award for special creativity, commitment and a user-friendly shopping experience, the Shop Usability Award honors online stores every year that particularly meet the above criteria, because this is exactly what the shopping experience of the future will look like: Innovative and customer-oriented. Stores inspire with original design, new concepts and perfectly unite the interests of customer and company.

Functions for successful e-commerce platforms
In the online store of the delicatessen importer Viani, e-commerce is perfectly combined with editorial content. Products can be specifically positioned in blog articles. The emotional imagery not only appeals to the customer on a purely factual level, but also touches, entertains or makes the website visitor laugh or think. The concept works, because this way the unique brand presents itself with a distinctive online store on the web, which works excellently both B2B and B2C.
But without an elaborate store concept as well as the necessary resources, such a project cannot be realized. The basis for the innovative Viani online store is the opensource framework pimcore, which offers endless possibilities for data and content maintenance and can be easily used by the employees themselves. The Shop Usability Award goes to all designers, copywriters and programmers who make such a project possible and work every day to make the Internet even better and more beautiful.