Our last blog post on the subject was only a short time ago. Nevertheless, it seems as if months have passed in the meantime, so strong is the momentum of the situation in Ukraine. As a digital agency with colleagues from Ukraine, we would like to use our reach to show them: Our support is safe for you and we stand by your side.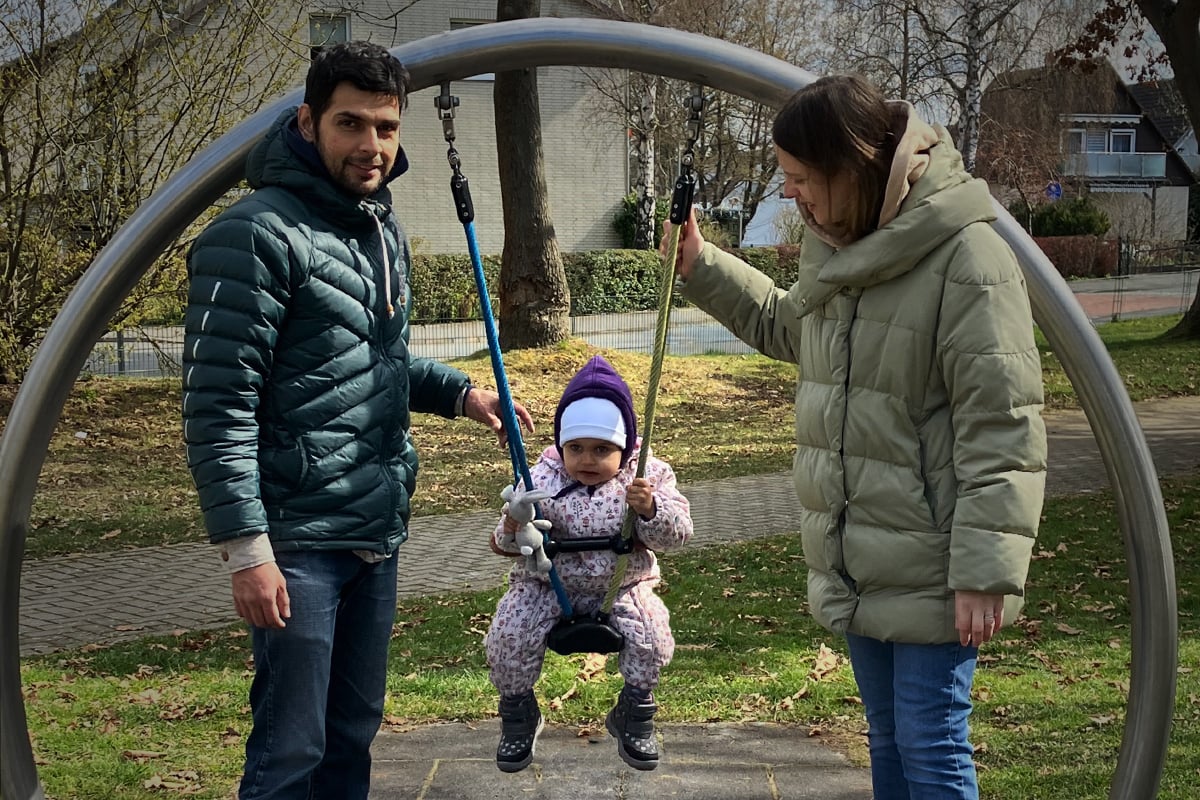 What is Blackbit doing on the ground? How is our team in Ukraine doing?
Blackbit keeps the operation running - also at the request of our local employees - and pays unchanged salaries, operating costs and rent for our office in UNIT.City.
Ukrainian Blackbits on the ground are engaged in volunteer work and still try to catch up on their workload on weekends to keep a touch of normality. With a better future firmly in mind and buoyed by an unwavering hope, they are already trying to set a course for the post-war era.
Personal Update from Ukraine - Hand in Hand in Resistance
Natalia Beznosko left Ukraine with her husband, who was allowed to leave because he is a Mexican citizen. After fleeing, they came to stay with our project manager Lisa Kleffner in Germany. Both want to stay here and are happy that they are now safe with their two-year-old child. Since Natalia's husband is also a developer, they will both start together at Blackbit (Germany) from April 1, 2022 with permanent employment contracts. Through Lisa's support, an apartment has already been found around the corner in Zollstock, the furniture donated by our Sales Manager David Gottschalk.


Vladimir Zverev takes over voluntary driving services in the security corridors, because his health condition excludes a military combat mission. Unfortunately, a previous departure has been denied, but the required medical certificate has been applied for and we all hope that he will be able to join us soon. In addition to his work at Blackbit, he will continue to work for his fellow citizens in Ukraine. Old cars are needed in Ukraine, and the structure to implement the transport is already in place. More details in our previous blogpost.


Five members of Sergiy Osipchuk's family were able to stay with CEO Daniel Gerlach, who spontaneously made room in his apartment for this situation. Our colleague Sergiy is relieved that his family and his brother's family are now safe. He hopes that peace will return and that he, reunited with his family, will be able to help rebuild the war-torn country.


Alexander Strizhakov has fled to his family in Finland. From there, he continues to organize the Kiev Tribe, staying in daily contact with his co-workers and holding all the strings.


Taras Shkodenko wants to come to Germany with his wife, their baby and their common dog as well as his two grandmothers, where our art director Olaf Guse has already prepared his apartment for their arrival. We are still tense and keep all fingers crossed that we will be able to welcome Taras and his family soon, but Taras' decision is clear: If his missing documents do not arrive in time, he will persuade his family to leave the country without him.


Valeriia Zaviriukha wanted to leave Kiev at the beginning of the war, but then decided to stay with her family to help directly on the ground. All the men in her family have been called up, while Valeriia tries to continue their lives as normally as possible and provide emotional support. Many are traumatized or despair at the lack of prospects for the near future.
"Our old life ended on 24.02.22, our hearts are heavy. But we hope for a future of peace and safety." - Julia Shynder, UX/UI Designer
Julia has moved from Kiev to her native Lviv, where she now lives and works with her parents. She also volunteers in arranging residency opportunities for fleeing Ukrainians:inside who are heading towards the Polish border.


Anton Pomyluiko has only recently joined Blackbit and fled to the countryside directly from our office in UNIT.City before the approaching war. Now he lives with his family in a remote region and works for us via mobile network.


Bohdan Skuba is in military service and deployed to the embattled hotspots in Kiev. Contact with his colleagues continues, albeit irregularly.
Despite the desolate situation, the team around Alexander Strizhakov remains confident and shows an unbroken will to resist, carried by the hope for a better future:
"I am sure that Ukraine will be free. We are encouraged by the worldwide support we have received in recent weeks. The support of our German colleagues is overwhelming and we can hardly find words to express how grateful we are and how connected we feel with you. We will rebuild our country and look to a new future with our families, I am sure of it. We are not giving up." - Alexander Strizhakov, Kiev Site Manager
All team members from Ukraine who want to leave the country we try to accommodate and provide for. Blackbit founder and CEO Stefano Viani summarizes, "We also respect every individual decision to stay on the ground and fight for Ukraine. We stand shoulder-to-shoulder in thought with our Ukrainian colleagues, whether they are in the office or on the front lines. The attack on Ukraine is not only an attack on a country, it does not only affect us as a company with Ukrainian employees - it is a historic break in all of our lives and togetherness as Europeans."
The Blackbit Spirit
Our employees here in Germany are also doing their part to collectively absorb what needs to be absorbed - each:r according to their own capabilities: Our colleague Marileen Stamer comes back early from her maternity leave to support the team. Team Lead Dennis Korbginski rips off overtime every day to make up for work bottlenecks. Others donate their leftover vacation from the past year to make up for scarce resources, or choose the easiest route and donate parts of their salary to charity.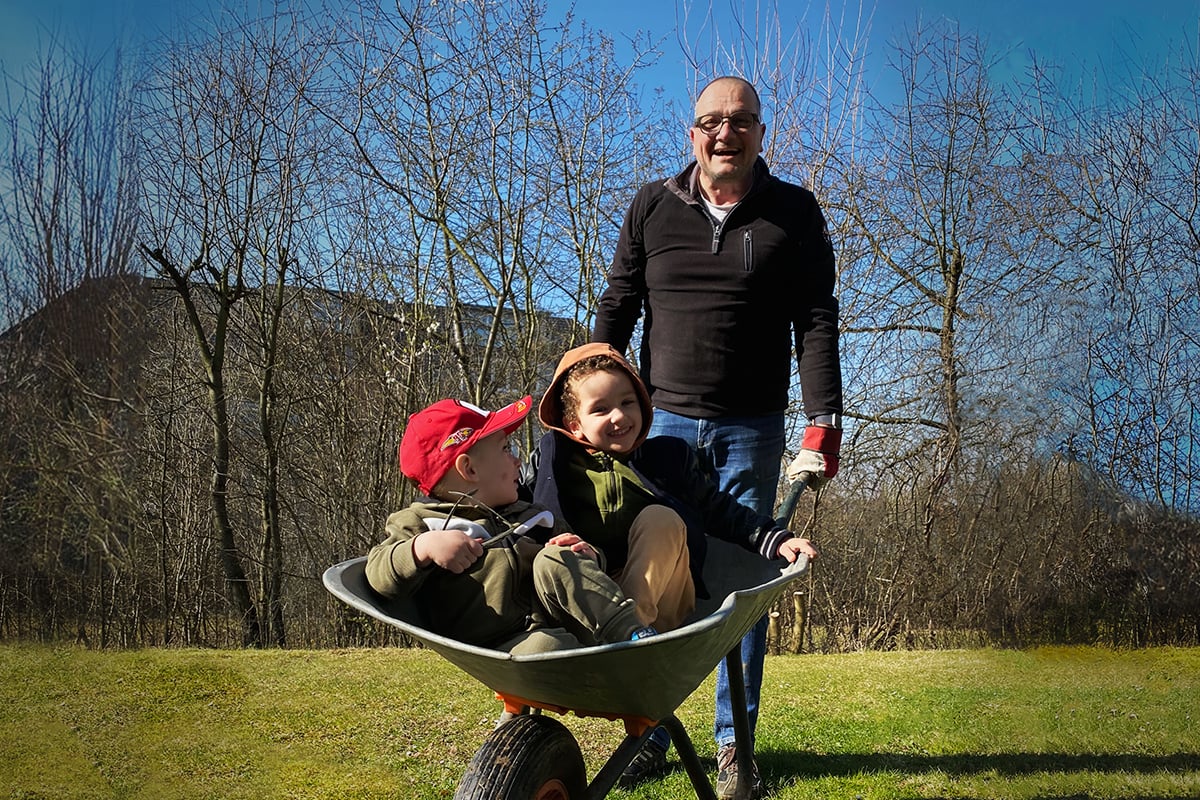 The Blackbit spirit keeps our team together, across national borders. We focus our energies and resources on supporting our colleagues and our shared future at Blackbit. We work with tireless perseverance on our projects and are in constant communication with our customers. Despite this unique challenge, CEO Daniel Gerlach makes it clear: "We are in the fortunate position to be able to provide this support, from ongoing salaries to financial donations to immigration assistance. In the face of this war that is to be condemned, we are glad to be able to pitch in, to actively assist our employees, and to confront this war, at least in some small way, with humanity."
#westandwithukraine
Stefano Viani ist Geschäftsführer von Blackbit digital Commerce GmbH. Er ist immer up to date, was neueste Entwicklungen und Trends im E-Commerce und digitalen Marketing angeht. Seit Jahrzehnten ist er für große und mittelständische Unternehmen Berater für die technische, optische und werbliche Optimierung von Webauftritten. Dabei entwickelt er insbesondere Konzepte und Maßnahmen für ein erfolgreiches Absatzmarketing.
Do you have any questions or would you like a personal consultation?
Stay up-to-date with our newsletter