Video ads: How to use YouTube for your business success
Advertising on YouTube? Most people are probably aware by now that YouTube offers more than just cute panda videos. However, the video platform is still hardly perceived as an attractive advertising medium. Unjustly, we think. That's why we have developed YouTube as an additional communication channel for our client CRB Analyse GmbH and provide an insight into the most important aspects of YouTube advertising here.

Good to know: the little 1x1 of YouTube video ads
Reach
As the second largest search engine after Google, YouTube reaches a huge audience in 76 countries by now and, according to Statista, is the video platform with the widest reach in Germany with a market share of around 52%. And because you can find videos on almost every conceivable topic on YouTube, it's logical to use this portal to reach potential customers for any company.
Target group/targeting
The community of YouTube users is as heterogeneous as the videos that can be found on YouTube. To advertise successfully on YouTube, it is therefore important to define target groups and determine the appropriate targeting for the respective video ad. In this respect, YouTube offers a wide range of options for separating the wheat from the chaff, i.e. placing video ads only in front of videos that are searched for and viewed by potentially interested users. For example, advertisers on YouTube can choose whether their video ads are only shown on individual selected channels and videos or whether the playout is to be controlled on the basis of specific topics, interest groups or keywords. The inclusion of demographic data and targeted remarketing are also possible when placing video ads. In this way, the chance of hitting the "right", i.e. generally interested users and potential customers with the video ad is increased enormously.
Costs
Similar to Google AdWords, ad placement on YouTube can be easily scaled depending on the available budget. TrueView in-stream video ads allow users to skip the ad after five seconds. Costs are only incurred if 30 seconds of the video ad, or the entire ad for shorter spots, are viewed or the video is interacted with. For advertisers, this means that the insertion of their video remains free of charge in many cases.
Measurable success
Since video ads on YouTube are placed via a Google AdWords account, campaign successes can be analyzed in a differentiated manner. When analyzing this, it should be noted that YouTube advertising is primarily used to publicize products and other offers. Therefore, the key indicators are not conversion rates as with Google search, but rather parameters such as reach, cost per view and click rates. YouTube Analytics also provides usage data such as skip rates and average running times of videos.
The living example: InStream video ads for CRB Analyse GmbH.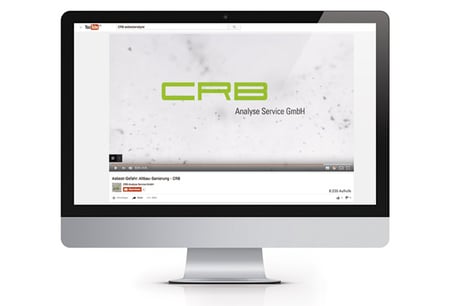 With Blackbit's support, CRB Analyse Service GmbH has been consistently and very successfully relying on search engine optimized landing pages and their promotion with Google AdWords for several years. In order for the company to better exploit existing market potential and tap into new target groups, we created an informative advertising video that has recently been used as an instream video ad on YouTube to promote CRB's services.
Since the YouTube campaign is controlled via the already existing Google AdWords account, it was only necessary to additionally set up a YouTube channel as a basis for the video advertising. Thanks to the comprehensive targeting options, which include demographic data as well as YouTube users' interests and the topic- or keyword-specific selection of videos, the video ads can be used in a very targeted manner so that the advertising hits an interested audience and wastage is kept low. Therefore, video ads can demonstrate a very good playout rate despite a limited budget.