If you follow the debate around the use of personalized advertising, two topics keep popping up: Cookies andartificial intelligence (AI). While cookies represent the technical basis for playing out personalized advertising, AI pursues the goal of optimizing advertising. In this context, the question arises as to what targeted advertising on the web will look like in the future, because cookies are gradually becoming a discontinued model.
In addition, the use of cookies is becoming increasingly difficult, because "browser manufacturers havediscovered the topic of data protection forthemselves and are increasingly actively blocking the use of 3rd party cookies, regardless of legally anchored specifications"(BVDW:Why "Advertising Identity" is the future answer for targeted delivery of advertising, November 2019). In addition, the legal basis stipulates that users must be offered the option of being able to switch off cookies with a simple click. So if cookies are to become a thing of the past in the future, the question is how the systems used in AdTech (Advertising Technology) can use AI/Machine Learning (ML) to consequently optimize advertising and target it to individuals or specific audiences.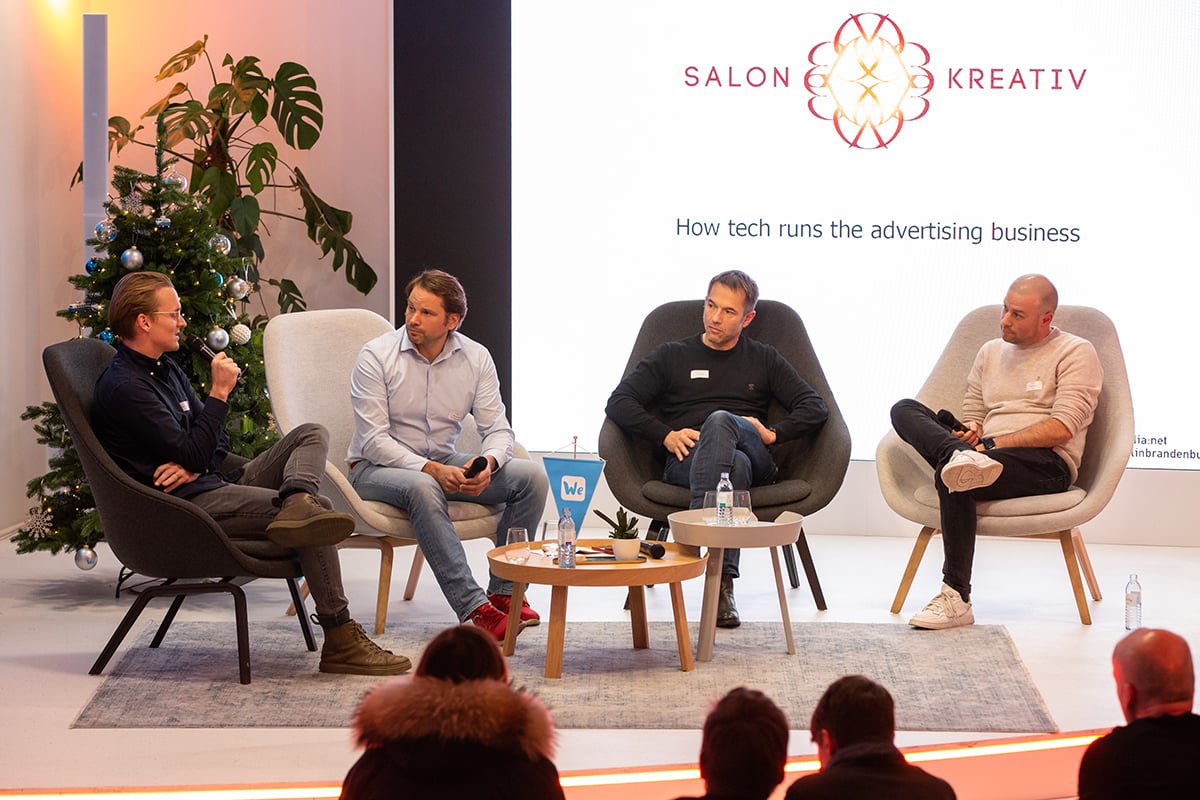 On December 11, media:net berlinbrandenburg e.V., the Senate Department for Economics, Energy and Business (SenWEB) and Project Future organized a discussion evening around the topic of AdTech. In the forum of the Volkswagen We Space Berlin, a panel of practitioners and experts gathered who have to continuously deal with the topic of AdTech in their field of work, among others: Matthias Haase from Zalando, Fabian Schaeffer from Adjust and Stefano Viani from Blackbit digital Commerce GmbH were allowed to share their views on the topic this evening.
AdTech and AI: Where is the journey heading?
The panel discussion served to exchange future-oriented strategies. In conclusion, the interaction between tracking service providers and advertisers, among others, will remain essential in the future. The challenge is to find a technological way topersonalize advertising while preserving privacy. Stefano Viani: "Advertising should be helpful, that is, offer products and services according to my actual needs. There is a need to educate consumers here. Often they are not aware that the personalization of advertising is intended to prevent us from being flooded with unsuitable offers. For this, it is necessary to recognize the user in anonymized form. If artificial intelligence is then added for the targeting of advertising, then the consumer has the feeling of completely giving up control over his private life" As a result, the use of AI, its functionality and optimization must also be reconsidered.
Viani clearly sees humans continuing in strategy development when it comes to the use of AI. AI can assist in the implementation of advertising, but it remains up to humans to assess, evaluate and, if necessary, rethink that strategy. Humans also remain responsible for the creativity aspect: "In my opinion, creativity, emotions and the development of interesting messages remain with humans. Production, optimization and targeting of advertising materials and campaigns will change under the influence of AI," says Viani.
Where the journey will ultimately lead cannot be answered at this point. However, there are platforms in the starting blocks where users and consumers can register to configure individual advertising according to their interests. With the provider netID , users can use their personal login to find out where and by whom their data is stored and delete it if necessary. This confronts the user with his surfing behavior and sensitizes him to the data that the system stores with the help of his surfing behavior. At the same time, the issue of relevance is covered.
Stefano Viani ist Geschäftsführer von Blackbit digital Commerce GmbH. Er ist immer up to date, was neueste Entwicklungen und Trends im E-Commerce und digitalen Marketing angeht. Seit Jahrzehnten ist er für große und mittelständische Unternehmen Berater für die technische, optische und werbliche Optimierung von Webauftritten. Dabei entwickelt er insbesondere Konzepte und Maßnahmen für ein erfolgreiches Absatzmarketing.
Do you have any questions or would you like a personal consultation?
Stay up-to-date with our newsletter