With the new partnership, Blackbit expands its technology portfolio and takes another step towards headless e-commerce.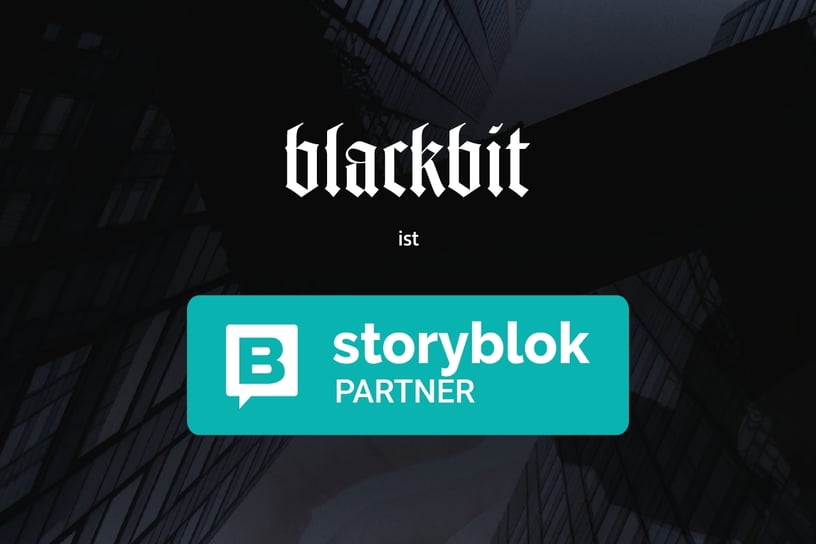 Thanks to its ease of use, the headless CMS Storyblok promises enormous increases in efficiency in content management and multi-channel e-commerce. At the same time, the CMS is highly customisable and expandable. The Austrian company Storyblock has been on the market since 2015, is financed with over 50 million dollars and is already considered a global software player thanks to its broad success. With an average rating of 4.6 stars on gartner.com and a recommendation rate of 88%, Storyblok is far ahead of other headless content management systems internationally. This is primarily due to the advantages that the CMS cleverly combines. But what makes the headless CMS so strong?
Storyblok: Headless CMS meets user-friendliness

The strength of modern headless solutions like Storyblok lies in its flexible structures. As a cloud-based headless CMS, it offers numerous technical advantages over traditional content management systems that have to be run on expensive and complex-to-maintain proprietary servers

.

With the Storyblok headless content solution, you can manage your digital assets in the front end for every conceivable application context. Whether it's corporate websites, e-commerce platforms, user-friendly helpdesks or apps optimised for mobile use and various end devices: with Storyblok, you accelerate the distribution of your content across various digital channels

.
Headless CMS with Visual Editor

Storyblok also solves the challenge that users of headless content management systems often face: Working with digital content in a headless environment is difficult, small-scale and error-prone because there is no visual preview function in the backend of the system. Especially in multi-channel marketing across different channels, this can lead to immense extra work in content distribution.
But Storyblok, thanks to the integrated user-friendly visual editor, offers the user-friendliness of a page builder and combines this with a modern headless architecture

.
Advantages of Storyblok
Code Framework Independent
Developers can work with their usual tech stacks and libraries as Storyblok is compatible with any code framework.
Visual Editor
Storyblok accommodates developers and digital marketers with its visual live editor. This reduces time for initial training as well as daily work processes.
Multi Language Ready
As Storyblok supports multilingualism, the CMS is also suitable for e-commerce shops & companies that are present in several countries.
Integrated rights management
Workflows that can be defined individually and according to needs allow different areas to be assigned different responsibilities and access rights.
Headless CMS for e-commerce
Leading e-commerce companies have high demands on content presentation in the front end. Storyblok can be easily combined with e-commerce solutions such as Shopware or BigCommerce and thus meets every demand.
Reusable patterns: Blocks
Individual elements such as teasers for special promotions or individual products can easily be used many times - thanks to the template engine with so-called blocks. This considerably reduces the effort required for manual integration in the backend.
Omnichannel publishing
Thanks to the headless architecture, Storyblok can be much more than "just" the CMS for your online shop. Also maintain content for mobile apps, smartwatches and many other digital channels centrally and efficiently with Storyblok.
Smart deployment workflows
Thanks to an integrated comment function, your team can make change requests directly in the CMS, publish content in preview mode and schedule automatic publication. Special promotions such as special offers and seasonal promotions can be synchronised automatically with ease.
Top performance at enterprise level
A global CDN (Content Delivery System), intelligent caching and integrated SEO features shorten loading times and guarantee the fast page and shop performance your customers want.
DSGVO-compliant
The ISO 27001 certified CMS Storyblok runs on AWS servers in Frankfurt am Main, which meet the highest standards in terms of security and data protection.
Integrated personalisation
Customise your content with Storyblok to the country, language or customer segment you want to serve. Integrated personalisation tools help you deliver customised content and offers to specific target groups on the front end - for example, on a CRM-supported basis of click or purchase behaviour.
Reduced time-to-market
Thanks to the large number of integrated tools and the numerous possibilities to design your content directly in the visual editor, you can significantly reduce your time-to-market for landing pages, sales campaigns and other content.
You can find more information about the advantages and possibilities of the Headless CMS directly at Storyblok

.
Blackbit combines leading technologies
Take the next step in digitalisation: say goodbye to your traditional CSM and go for a high-performance Headless CMS now. Whether BigCommerce, Shopware or any other shop system: we integrate Storyblok into your IT infrastructure.
Contact us now!
Stefano Viani ist Geschäftsführer von Blackbit digital Commerce GmbH. Er ist immer up to date, was neueste Entwicklungen und Trends im E-Commerce und digitalen Marketing angeht. Seit Jahrzehnten ist er für große und mittelständische Unternehmen Berater für die technische, optische und werbliche Optimierung von Webauftritten. Dabei entwickelt er insbesondere Konzepte und Maßnahmen für ein erfolgreiches Absatzmarketing.
Do you have any questions or would you like a personal consultation?
Stay up-to-date with our newsletter