The RAL quality mark guarantees special product and service quality for windows, doors and façades as well as their installation. The members of the RAL Quality Association guarantee this quality promise to end customers through strict quality assurance specifications. Blackbit has developed a strong brand message from this and ensured lasting awareness in the consumer market through efficient positioning and target group-specific online campaigns.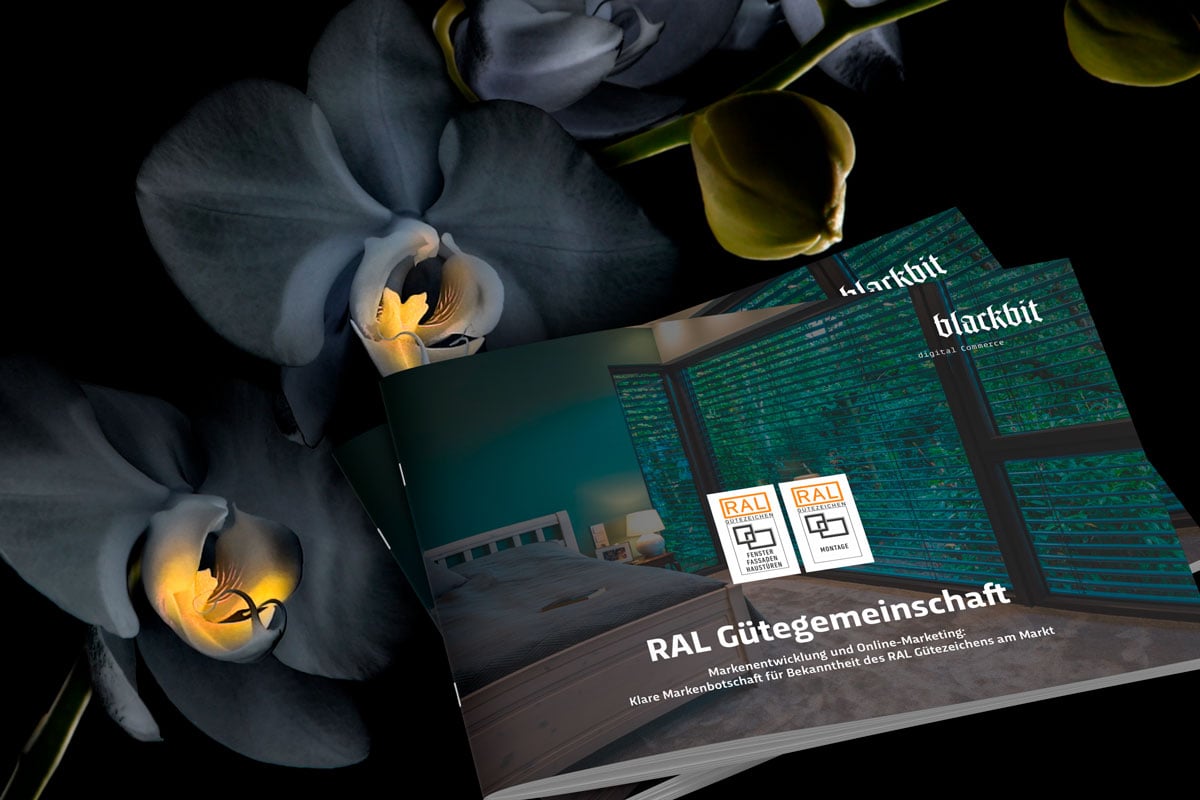 A new brand image that inspires trust
As a first step, Blackbit developed a clear brand message and strategy for the RAL Gütegemeinschaft. Consumers should not only quickly and easily recognise the quality promise of the quality mark, but also immediately understand that the promises are backed by strict controls and high standards.
A sustainable brand concept based on quality assurance measures
The RAL Quality Association consists of around 230 members in the window, door and façade sector. The aim in developing a standardised concept was to translate all quality standards into promises from RAL to consumers.
But a promise is only half as effective if it is not heard. In the second step, Blackbit therefore defined a strategy and channels to create awareness and visibility for the quality promise. A clear brand positioning on the B2C market and targeted targeting, differentiated across several social media channels, proved to be particularly promising.
Social media and Google Search Ads for high awareness and traffic
Pinterest in particular served as the ideal platform to reach consumers directly in their thematic environment. The image-dominated content is played out directly in the user's feed with the help of high-reach and target group-specific campaigns, specifically aligned to their focus in the user journey.
In addition, display and Google Search Ads ensure greater visibility in this highly competitive market. The click target of all measures: a landing page set up specifically for the campaign. The clear page structure with clear information ensures that visitors are slowed down in the user journey. Real testimonials convey the promises of the RAL Quality Association authentically and in detail. At the same time, visitors are guided through the landing page in a structured way to convince themselves of the authenticity of the quality mark.
With the help of an authentic brand message and the campaign objectives of brand awareness and traffic, awareness of the consumer brand was sustainably increased. Thanks to a skilfully deployed budget and specifically selected topics and keywords, the Blackbit SEM team was able to address interested parties precisely and successfully establish the quality promise of the RAL Quality Mark as a brand among end consumers.
New ideas for your company?
Are you inspired by this result? You can read all about this case here:
Feel free to contact us and together we will find out how you too can achieve high-reach success.
Stefano Viani ist Geschäftsführer von Blackbit digital Commerce GmbH. Er ist immer up to date, was neueste Entwicklungen und Trends im E-Commerce und digitalen Marketing angeht. Seit Jahrzehnten ist er für große und mittelständische Unternehmen Berater für die technische, optische und werbliche Optimierung von Webauftritten. Dabei entwickelt er insbesondere Konzepte und Maßnahmen für ein erfolgreiches Absatzmarketing.
Do you have any questions or would you like a personal consultation?
Stay up-to-date with our newsletter