Successfully run Smart Display campaigns with Google AdWords
To successfully reach customers on different platforms, companies can now use Smart Display campaigns to serve precisely tailored ads on more than three million websites and apps. Thanks to machine learning, AdWords Smart Display is continuously optimized, responsive display ads are automatically created, and conversion-optimized ad offers are served.

What Smart Display can do
Smart Display campaigns simplify display ad management and make it easier for businesses to acquire new customers and drive higher conversions. Google speaks of up to 36% higher conversion rates than before. Smart Display campaigns are supported by Google's Machine Learning - artificial intelligence automatically optimizes the complex variables for ad creation in the process. The Google Display Network, consisting of more than three million websites and apps, is used to distribute the Smart Display campaigns. Until now, creating and optimizing display campaigns was a complex and tedious challenge - in the future, advertisers will find it easier to reach their customers with the right message at the right time.
Automated learning ensures optimized display advertising in AdWords
Dynamic ad creation and dynamic remarketing have long been used technologies from the AdWords toolbox for ad optimization. However, with the launch of Smart Display campaigns, the focus of these dynamic measures is on achieving performance targets - in this case CPAs (cost per acquisition). This raises hopes that, unlike the previously imprecise display campaigns, clearly measurable effects of smart display advertising can be seen. Google will use automated learning to optimize the entire display ad marketing process in the following ways:
Automated bid setting: depending on the target CPAs set, smart display campaigns will be optimized to get the best value in ad auctions. Google additionally calculates this depending on the expected conversion rate of the bids placed.
Automated targeting: As the measure progresses, the Smart Display campaign is optimized. Google learns at the same time where the ads are most effective, in these places they are displayed more.
Automated ad creation: As already possible, the ads are automatically compiled from the provided components (assets). Images, logos, ad titles and descriptive text are adapted to the advertising spaces of the Google display network in an infinite number of responsive combinations.
Overall, advertisers should be able to effectively save time with Smart Display campaigns by gaining better insights into how their assets are performing and by optimizing ads based on impressions.
Why is Smart Display important for businesses?
For businesses looking to reach more users at all stages of the buying cycle and improve their conversion rates, Smart Display campaigns are a powerful tool. High-performing campaigns should now be easier to create and automatically optimize. For advertisers themselves, a user-friendly interface is available to manage ads and track performance. In addition, the new Responsive format of display ads eliminates additional work for creating various formats (size, type). Overall, this allows more reach to be generated with less effort. However, Smart Display campaigns are currently only available to experienced advertisers. For optimization based on target CPAs, sufficient data on conversion costs must also be available, as this is calculated from historical values.
What do Smart Display campaigns look like?
Automatic ad creation combines thousands of different combinations of display ads from a set of given assets (images, logo, ad text, headline). The ads always look good as long as the given image dimensions and text specifications are met. In addition, they are optimized for specific placements based on their performance and are always responsive - without additional manual customization. For advertisers, this means less effort in creating ads and a safeguard against future changes in formats. In addition, display ads can be produced directly from a product feed.
An example of Smart Display ads created using the Automatic Ad Creation tool: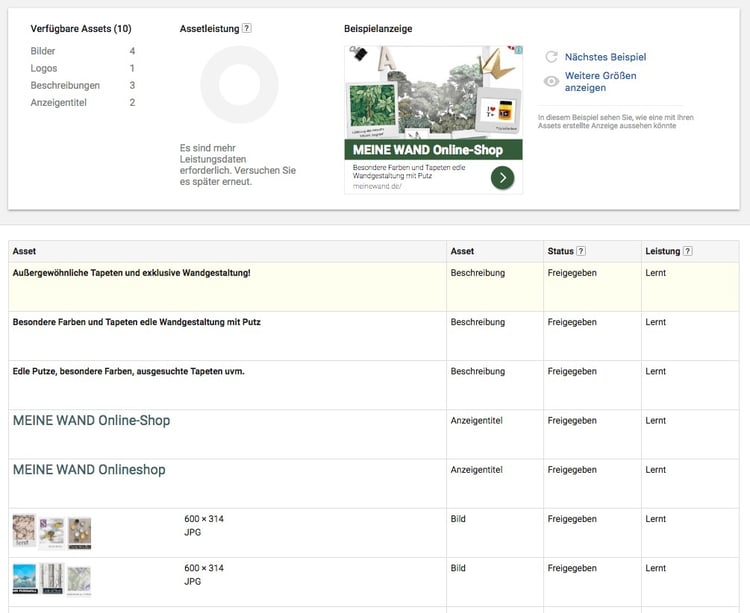 How does Smart Display differ from previous display campaigns?
Previously, manual bidding strategies had to be used to buy ad space on the display network. This meant that advertisers often had to perform similar, repetitive tasks to get the right placements on the Google Display Network. The new Smart Display campaigns automate and optimize bid setting based on target CPA - eliminating repetitive clicking and leaving more time for strategic tasks. Targeting also optimizes itself over the course of the Smart Display campaign: Ads are displayed where they are actually most effective. The restriction that display ads can only be shown on either desktop devices or mobile devices becomes obsolete. Most of the control now lies with Google, which initially means a relief for advertisers when targeting Smart Display campaigns.
Incidentally, Smart Display campaigns will also include remarketing lists. This means that Smart Display campaigns and remarketing campaigns can continue to run in parallel. A customer can therefore be shown content from a Smart Display campaign because he was originally part of a remarketing list. However, you don't lose any customers in the process, because the more relevant ads are always shown - whether from the Smart Display campaign or the remarketing campaign. The ad with the highest conversion probability is ultimately used.
The prerequisites for success with Smart Display campaigns
To use Smart Display campaigns, advertisers must have completed at least 50 conversions with the Google Display Network or at least 100 conversions with the Search Network in the last 30 days. And in order to collect enough data for optimization, a daily budget of at least ten to fifteen times the target CPA must be provided. Smart Display campaigns are not a method for companies just getting into search engine marketing (SEM), but are suitable for experienced advertisers who are willing to experiment. If budget and conversion rate targets are met, it is recommended to run a test campaign and compare it to previous standard campaigns.
Leading the way for smart display campaigns
Google's artificial intelligence is finding its first application for advertisers with the new Smart Display campaigns. This creates new opportunities for store operators to increase their conversion rate in display marketing and boost their sales. In addition, the self-optimizing processes within Smart Display campaigns create more time that can be invested in structuring and planning marketing strategies. Blackbit currently supports customers in planning and implementing Smart Display campaigns. As a pioneer in digital commerce, it is natural for us to use innovative opportunities to help companies save resources and increase their sales.
Our online marketer André Reß implements Smart Display campaigns together with customers and is convinced of the possibilities for self-optimization of the campaigns. As an SEO/SEM specialist, he hopes for improved placement of ads in the Google Display Network and better insights into the performance of individual campaigns. "Machine learning offers growing online commerce a powerful tool for better display ads, more accurate targeting and smart insights into performance optimization," André Reß summarizes Google's expansion of AdWords. "Google has created a new "eierlegende Wollmilchsau" with Smart Display, which is initially one thing: very hungry. We are curious to see whether it will live up to the high expectations if fed sufficiently. "Early adopters," as always with new Google products, have a particularly good chance of succeeding with it in the competitive world of e-commerce."
Want to learn more? Read blogpost on bid management now:
This post was updated on 03/21/2018.